A Humanitarian Worker Shares His Reality on the Ground in the Middle East
Shachar Zahavi co-founded SmartAID, a global humanitarian organization focusing on technology that provides essential relief items to people impacted by disasters. With three decades of experience working in disasters, Zahavi leads with empathy, inclusivity, and an intuition of how to help people from moment to moment.
This past Thursday, after traversing Israel to provide aid to anyone in need, regardless of their origins, nationality, or religion, Zahavi spoke to us by phone and recounted parts of his day.
---
Today, we were in Zikim, providing phone chargers with different telecommunication systems because there is beginning to be a lack of proper access to telecommunications here in Israel. There is also a need for warm clothes, as the rain is starting and it is getting cold.
Afterward, we drove about 10 minutes north to Ashkelon, a city that was hit. Many have fled Ashkelon, but many who stayed behind are people in low economic situations and elderly. Many of the people on whom the elderly depend have fled the city, so the elderly are alone. We are working with the city to help them more.
We have a few warehouses—in the south, center, and north—so we can try to be as close as possible to the evacuated families. We are a tech-oriented group, but we had to add more non-tech-related stuff to our warehouses, including food, blankets, and clothing—items usually needed during disasters. This is in addition to the tech-related stuff we do on the ground.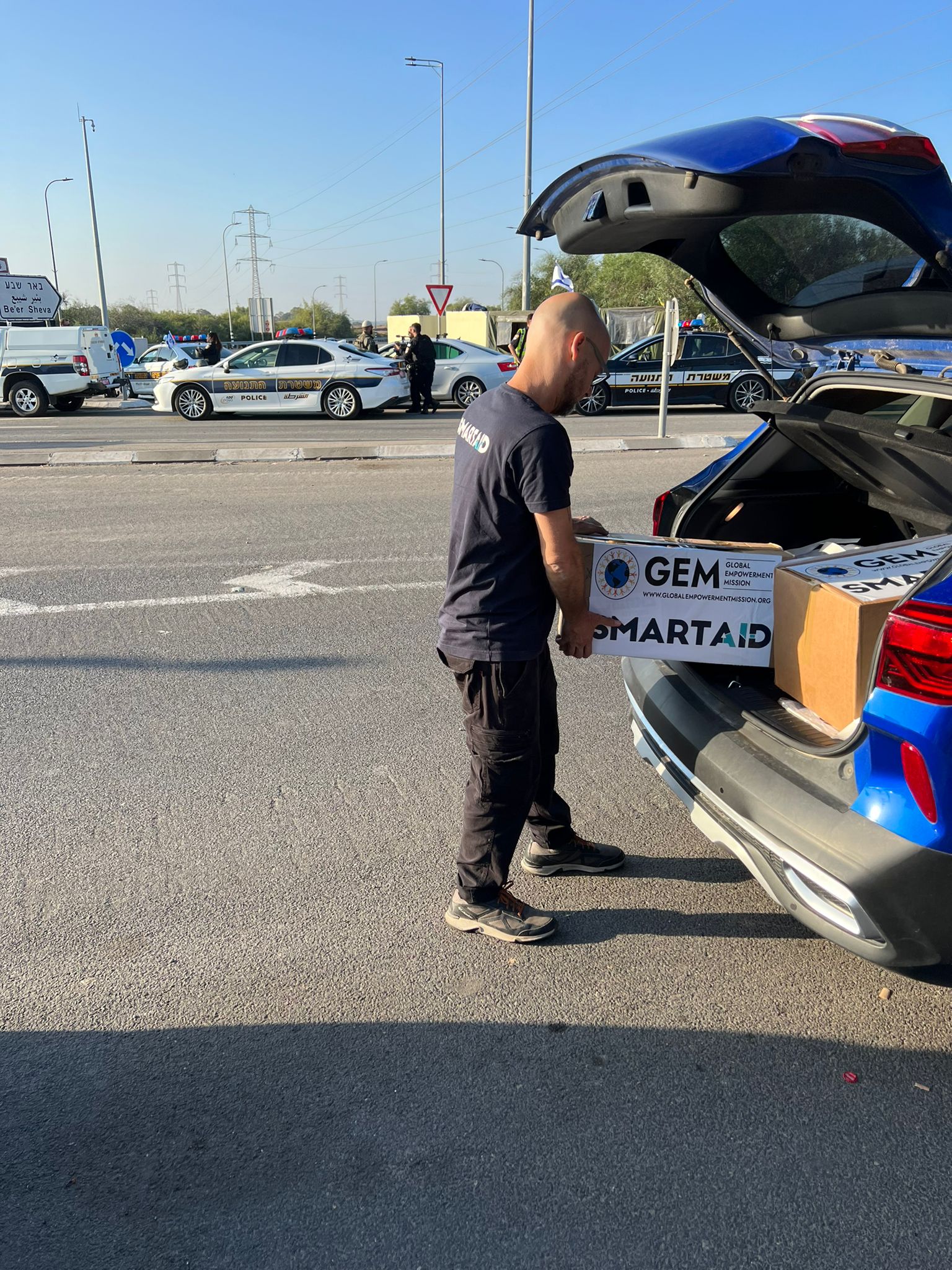 We are working with the heads of different kibbutz across the country to map out the peoples' needs on every given day. They are telling us, 'This is what they need now. This is what they need over the next week. This is what they will need in the next half year.' Because for a lot of these people, I don't see them going back [home].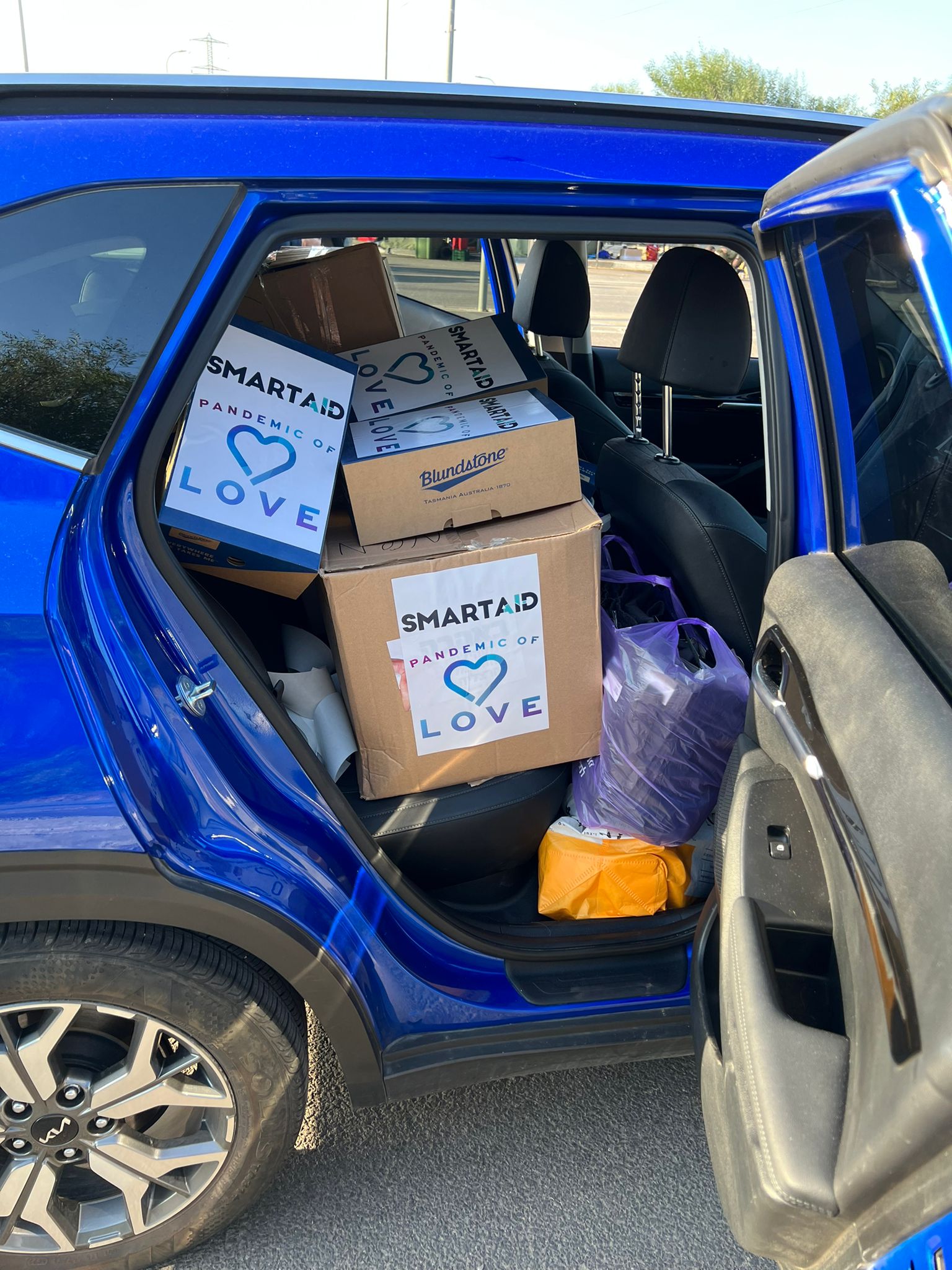 We are also working with Shelly Tgielski and the Global Empowerment Mission to help the kids with remote learning, which we've been doing in Ukraine, Poland, Moldova, and Turkey. The Israeli government announced that all the kids across Israel are returning to school through Zoom. We're working to provide these Smart classes so kids can go back to somewhat normalcy and have a safe space. The UN talks about providing safe spaces for women and children, such as tents. The way we look at it, we see safe spaces also as going back to studies and your education. It may be easy to think that if you move from one place or the other, whether internally or as a refugee to another country, then you can study with kids your age, and you're going to be okay. But the issue is that these kids want to see their classmates and teacher. These things are psychologically needed; we've seen this in Ukraine and elsewhere. So, we want to continue to put up these Smart classes for these kids.
Another situation we've encountered is hundreds of autistic children and children with mental disabilities that have been evacuated and moved. We are trying to work with other local charities and social workers who work with these children specifically to help them cope and reduce their stress, which is harder for them.
So, we're tracing the gaps daily and working in a grassroots way to see the needs. Because in disasters, the needs change all the time. So, we want to ensure that people get exactly what they need.
And when people ask how to help, I usually tell them to allocate their funds better. So many people say, 'I can buy things and ship them.' I tell them to donate the amount they would spend directly to an organization on the ground. Because again, every day, the needs change. One day, we could have 500 people who need warm clothes. Then, the next day, hundreds of people in another part could need food. So, if you want to help, think about how you can allocate your funds directly to the workers on the ground who are taking a grassroots approach to ensure people get what they need.
You can learn more about SmartAID here. The Sunday Paper deeply thanks Shachar for taking the time to speak with us.