March Madness Icon Sister Jean Shares Secrets to a Life of Purpose at Age 103
When I turned one hundred years old on August 21, 2019, the city of Chicago and my employer, Loyola University, threw a big party for me. There's nothing I enjoy more than a big party, especially when I'm the guest of honor! One of the local reporters asked our basketball coach, Porter Moser, how I'd lived so long and so happily. "Well, I'll tell you," he replied. "She has a purpose every day."
I think there's a lot of truth to that. Of course, there's also a lot of luck involved in living this long. I'm extremely blessed that I've never gotten terribly sick or badly hurt. I've also clearly inherited great DNA. My father lived until he was ninety-five and my two brothers lived until they were seventy-four and ninety years old. I do think having a daily, consistent purpose has kept me not only alive but young and vibrant.
I've always loved my work because it never feels like work. To this day, I report for work at Loyola University Chicago five days a week. My office sits right in the heart of our student center, so those magnificent young people are constantly popping in and out of my office to ask questions, say hello, or request a selfie. I am the queen of the selfie these days. My evenings are filled with phone calls, reading, and writing emails. (Yes, I write my own emails.) I'd like to think that I've got just as much, if not more, energy as people who are many years my junior. I only wish I could jump out of this wheelchair and dance a jig!
I can't say I planned to live this long, or decided a course of action that would allow it to happen. I just followed my instincts—and my calling to serve God.
I've had many duties at Loyola University over the last three decades, but few have brought me more joy than my service as the chaplain for the men's basketball team. I meet with the team before every game to offer a team prayer. I also pray with the fans shortly before tip-off.
Then I watch the action from my wheelchair right next to the court.
From where I sit, I can see everything that happens, including all the instances when the referees make a bad call—and I pray that those guys will get better eyesight. Sometimes, the players will stop and hug me on their way off the court. There's nothing like hugging a sweaty basketball player after a big win.
I may be an old nun, but I know my hoops.
On the day after each game, I send emails to the coaches and players offering my analysis of the game and a scouting report for our upcoming opponent. I know basketball well, having watched it all these years, and I make sure to do my homework. Then, before the next game, we meet again, and I pray for everyone to be safe and healthy—and for the Ramblers to win.
I often see looks of surprise on the guys' faces when they hear some of the things I say. One of our players, Donte Ingram, once told a reporter how surprised he was when he heard me deliver a pregame prayer for the first time.
"It caught me off guard," he said. "I thought she was just going to pray. She prayed, but then she starts saying, 'You've got to box out and watch out for number 23.'"
I've been blessed to be well-known in the Loyola community for quite some time, but in the spring of 2018 I reached a level of notoriety that I never could have imagined when my Ramblers made a Cinderella run to the Final Four of the NCAA tournament. Every time we took the court, we were the underdogs, but our guys showed such great fight and teamwork that we were able to win four straight games. As they took each step, the press developed a bigger fascination with the old nun in the wheelchair wearing a maroon and gold scarf and a pair of Nike sneakers with the words "Sister" and "Jean" stitched onto them.
By the time we all arrived in San Antonio for the Final Four, I was such a big deal that the NCAA set up my own press conference. They told me afterward I drew more reporters than Tom Brady did at the Super Bowl. At one point, a reporter asked how it felt to be a national celebrity. "International celebrity," I corrected. That's because I had received emails from Europe from friends who had caught wind of my story across the pond. This nun was flying.
The tournament ended for us with a loss to Michigan in the Final Four. I was disappointed, of course, but I was so thrilled for what those players and coaches had accomplished. Life has calmed down for me in the years since then—but only a little. I am still treated like a celebrity, and I must say I do enjoy it because it gives me the chance to interact with so many people.
People tease me from time to time—"Now Sister Jean, don't let this go to your head"—but. Of course, it hasn't. I believe this was all a part of God's plan. All I ever wanted to do was serve God, and my way of doing that has been to work with young people to educate them, encourage them, give them spiritual guidance, and help them live out their dreams. I have seen so many changes over the last century, but the important things have remained the same.
My attitude and perspective haven't changed since Loyola's amazing run to the Final Four, but I recognize that I have a much bigger audience now. I feel it is my duty to take advantage of this holy opportunity. That is my aim in writing Wake Up With Purpose!—not just to tell the story of my life but also to talk about all the things I learned during my first hundred years. I hope to do what I've always done: use my words to help others learn, grow, serve God, and serve each other. I hope when people read this book, they will be able to wake up the way I do. I want them to wake up happy. I want them to wake up with purpose.
And I want the Ramblers to win.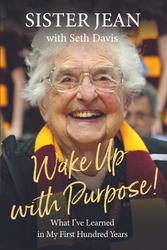 Taken from Wake Up with Purpose!: What I've Learned in My First Hundred Years by Sister Jean. Copyright © 2023 by Jean Dolores Schmidt, BVM. Used by permission of Harper Select, a division of HarperCollins Focus, LLC.
---
Sister Jean Dolores Schmidt is a religious sister of the Sisters of Charity of the Blessed Virgin Mary. She has spent her entire adult life working as a teacher, administrator, and volunteer, first at elementary and grade schools in Chicago and Los Angeles, and later at Mundelein College and Loyola University. Since 1994, Sister Jean, as she is known, has served as team chaplain for Loyola's men's basketball team. She gained national—and international—fame in 2018 when the Ramblers went on a Cinderella run to the Final Four. Sister Jean has been a household name ever since. In August 2022 Sister Jean celebrated her 103rd birthday.