Sunday Paper Recommends—Week of September 17, 2023
What We're Watching
We keep hearing applause for the musical film A Beautiful Life, a story of music, finding onself, and acceptance.
What We're Reading
Ayse Birsel is a leading industrial designer who's created some of the world's most beautiful and functional products. Her new book, Design the Long Life You Love: A Step-by-Step Guide to Love, Purpose, Wellbeing, and Friendship, is a manifesto and beacon to help you do just that: build the life you desire at any age, taking a designer's approach.
What We're Listening to
The Wall Street Journal podcast 'Your Money Briefing' offers a daily take on caring for our financial wellness. Every episode is intelligent and concise, but the recent three-part series titled Are You Prepared for a 60-Year Career? is right on the money (pun intended) when discussing our longevity. As Americans live longer, we must consider working longer and the preparation that comes with that.
What We're Making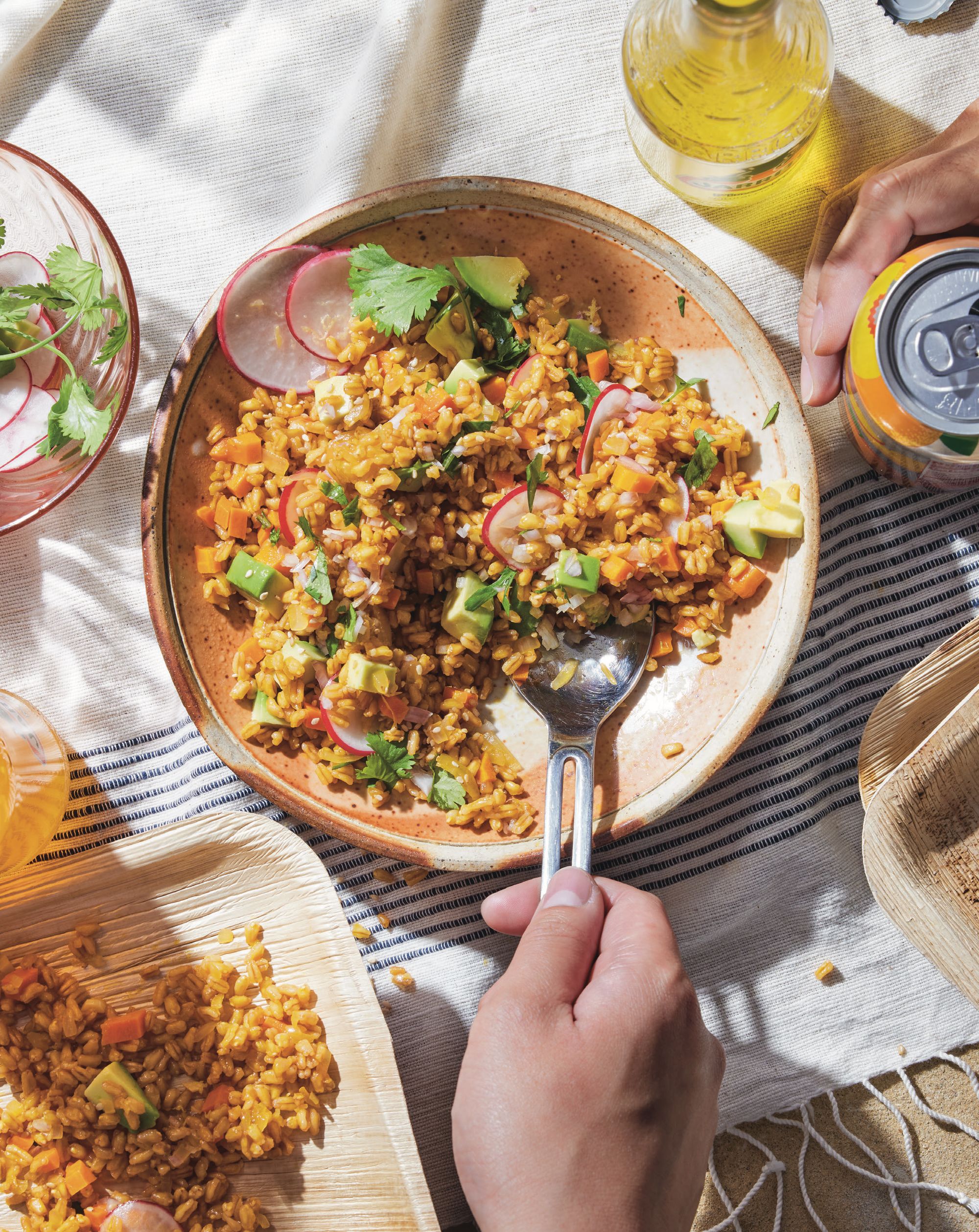 BROOKE'S CARROT-FARRO SALAD
This colorful salad tastes like spring and fall at the same time; it's bright and refreshing, nutty and rich, and makes a great addition to a picnic basket in any season. Chef Brooke Williamson cooks the farro in carrot juice so the grains soak up the earthy-sweet essence of carrot and retain a satisfying bite. Brooke has been a partner and friend of WCK for years. Her restaurant, Playa Provisions, has supported our efforts in Southern California, and Brooke herself is always game to show up at our kitchens and unpack her knives. "Having had mainly neighborhood-driven restaurants, my husband, Nick, and I are keenly aware of how important community is, not only for the purpose of receiving support, but also for how important it is to give. Our community is our extended family . . . our neighbors and staff are who we turn to in the best and worst of times."
Serves 4
4 tablespoons extra-virgin olive oil
‌‌1 medium yellow onion, finely chopped‌‌
2 medium garlic cloves, finely chopped
2 cups farro (see Note), rinsed‌‌
2 tablespoons light brown sugar‌‌
3 cups pure carrot juice Kosher salt‌‌
2 medium carrots, peeled and diced
Grated zest and juice of 2 medium lemons
1 shallot, minced‌‌
6 red radishes, thinly shaved‌‌
¼ cup roughly chopped fresh cilantro leaves‌‌
1 avocado, diced‌‌
2 tablespoons toasted sesame seeds
Freshly ground black pepper
(1) In a large saucepan, combine 2 tablespoons of the olive oil, the onions, and garlic and sweat over medium heat until they're translucent, 3 to 5 minutes. Add the farro and toast for 2 minutes, stirring frequently to make sure the onions and garlic don't brown. Add the brown sugar, carrot juice, and 1 teaspoon salt and simmer over medium-low heat, stirring occasionally, until the farro is al dente—chewy but still firm, 20 to 30 minutes.
(2) Add the diced carrots and continue to cook, stirring often, until the farro is cooked through and the carrots are tender, 10 to 15 minutes.
(3) Taste the farro and season with salt, if needed, then drain in a colander (save any leftover cooking liquid in the refrigerator to use in a salad dressing). Spread the farro out on a large sheet pan and drizzle with the remaining 2 tablespoons olive oil, stirring to coat it well. Let it sit at room temperature until cool.
(4) Place the cooled farro in a large bowl and toss with the lemon zest, lemon juice, shallot, radishes, and cilantro. (The salad can be made to this point up to 1 day ahead and refrigerated.)
(5) When ready to serve, add the diced avocado, gently stir, and finish with the sesame seeds and a few twists of black pepper.
Note: Look for farro from brands like Bob's Red Mill or Earthly Choice. Make sure your farro isn't "quick-cooking" or that the package doesn't say "cooks in 10 minutes."
Reprinted with permission from The World Central Kitchen Cookbook Feeding Humanity , Feeding Hope by José Andrés and World Central Kitchen with Sam Chapple-Sokol; foreword by Stephen Colbert, copyright © 2023. Published by Clarkson Potter Publishers, an imprint of Penguin Random House.
Copyright © 2023 by World Central Kitchen
Photographs Copyright © 2023 Kristin Teig
Archival photography courtesy of World Central Kitchen.