Sunday Paper Recommends—Week of July 16, 2023
At The Sunday Paper, we often discover books, podcasts, films, and other works that move the needle and spark inspiring change. We hope these suggestions—plus this new recipe—open your heart and mind and encourage you to come together for meaningful conversations.
What We're Watching
Every so often, a piece of television grabs our hearts and doesn't let go—and this is the case with season 2 of The Bear. Rich with stories of self-growth, connection, and determination, every episode provides a riveting look at the flaws and beauty of being human. We hold a special place for one episode in which our dear friend Jamie Lee Curtis gives a performance we will NEVER forget.
What We're Reading
The Love Thief is an ideal escape for summer. Arielle Ford dives into lost and found love, self-doubt, dreams, rich tradition, and more. Plus, there's the magic of India's sacred city, Rishikesh, woven throughout. A stunning novel.
What We're Listening to
J. Robert Oppenheimer is one of American history's most polarizing, critical, and curious figures. This episode of My Nuclear Life offers a close look at how the scientist worked tirelessly to ensure the success of the atomic bomb. His mission reshaped war, politics, and civilian life forever. Oppenheimer's story is one of complexity, devastation, and so much more.
What We're Making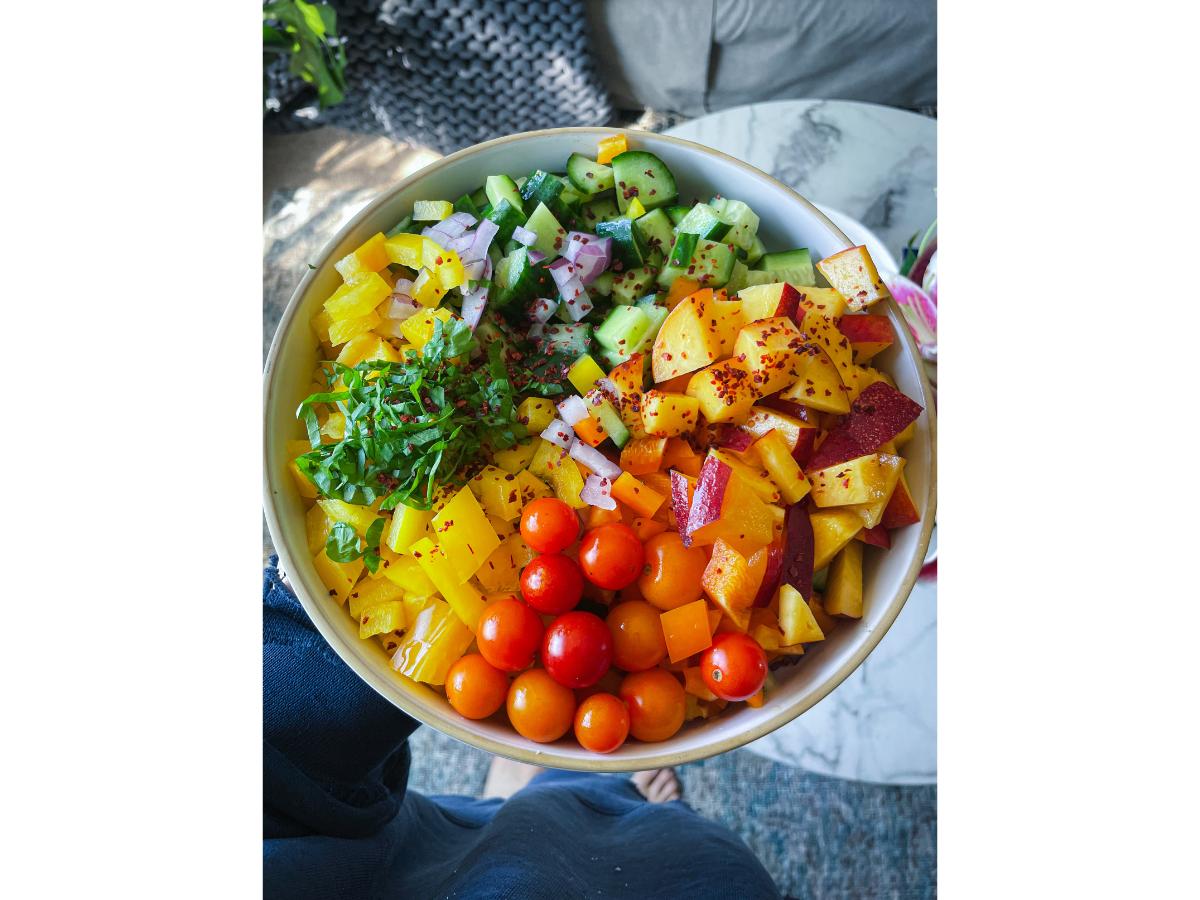 Summer Confetti Salad

Ingredients:

Salad:
2 Persian cucumbers
1 handful sungold tomatoes
2 nectarines
1 handful sugarsnap peas
1/4 c red onion
1 handful of your favorite herbs, I love parsley & mint
1 yellow pepper
1 orange pepper
1 ear of fresh corn

Dressing:
1 lime
1/4c good grassy olive oil (I love Brightland)
2 pinches flaky sea salt
2 pinches allepo pepper (regular pepper will work too!)

Method:
Cut all ingredients into tiny 1cm pieces. There is no way to make a mistake! Bite sized is best.
Cut corn directly off of Cobb.
Roughly chop herbs.
Place in bowl.
If not eating immediately, keep everything in bowl beautifully separate, cover and refrigerate. (Even dressed this salad can last up to 3 days, but you and your loved ones might finish it in one sitting)

Dress the confetti:
Cut lime in half and squeeze on top of ingredients.
Add a glugg of olive oil.
Sprinkle salt and pepper
Toss salad.
Season to taste.

Bon appétit!
Aliza J. Sokolow (@alizajsokolow) author, THIS IS WHAT I EAT with Random House Children's Books out now! 🍏📚