Sunday Paper Recommends—Week of September 10, 2023
At The Sunday Paper, we often discover books, podcasts, films, and other works that move the needle and spark inspiring change. We hope these suggestions—plus this new recipe—open your heart and mind and encourage you to come together for meaningful conversations.
What We're Reading
The synopsis of Alice Carrière's memoir hooked us: "With gallows humor and brutal honesty, Everything/Nothing/Someone explores what it means for our body and mind to belong to us wholly, irrevocably, and on our own terms." These words tell the truth, as Carrière tells an emotional story of discovering oneself and unlearning in a poetic and captivating way. Her story and writing is transcendent.
What We're Watching
One of our all-time favorite cinematic families is back—and we couldn't be more excited. My Big Fat Greek Wedding 3 looks to promise all the fun, bellylaughs, tears, and adventure the first two delivered. This movie is exactly what we all need right now: non-stop fun warmth and fun.
What We're Listening to
The Atlantic continues to produce some of the most well-reported news of our time, and this podcast is another example. How to Talk to People dissects why building relationships can be so hard for so many of us. This is a thought-provoking look at unraveling the nuances of showing up and reaching out in hopes of connecting.
What We're Making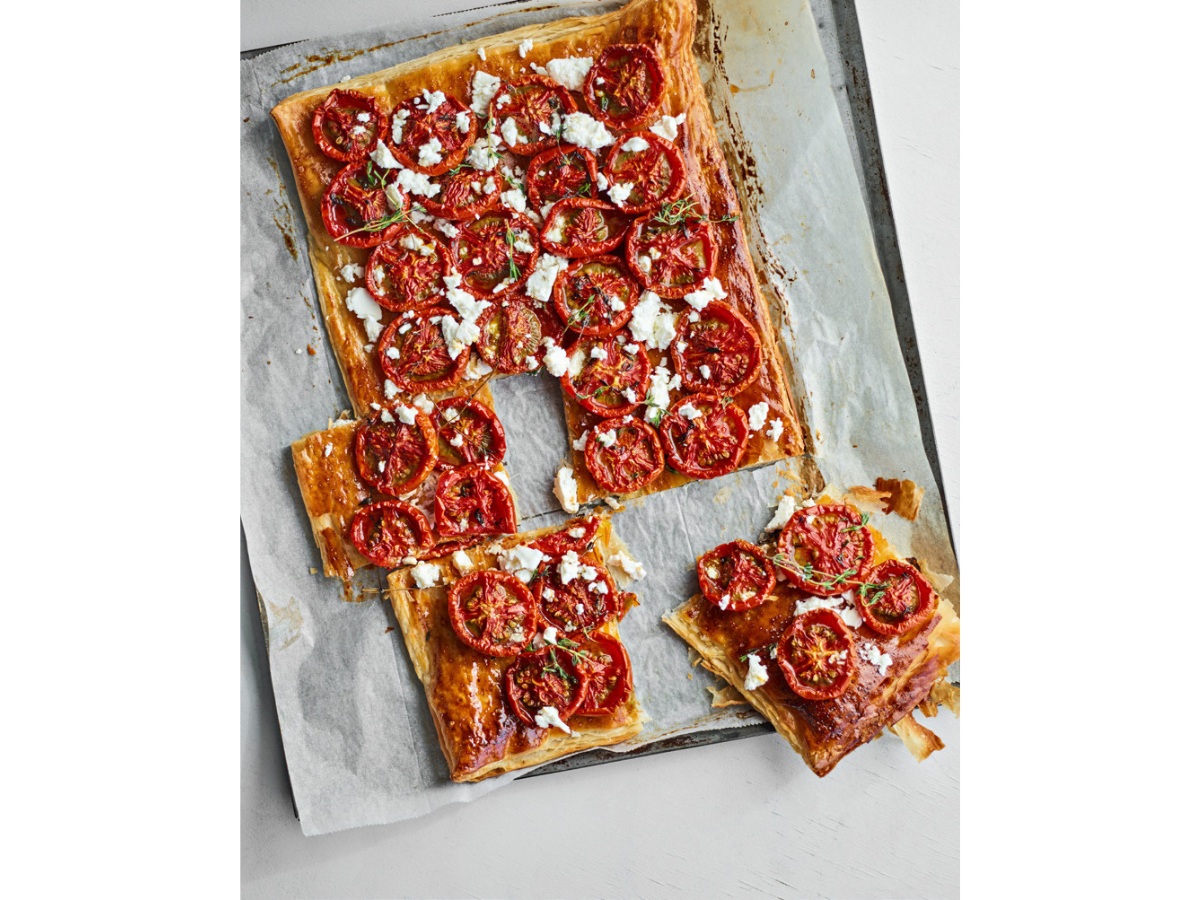 SLOW-ROASTED TOMATO & FETA TART
Serves 10 to 12
Active Time: 25 minutes
Total Time: 4 hours 30 minutes
Puff pastry may have experienced a period of . . . ahem . . . overuse, marked by the Shabbat-table ubiquity of individual-appetizer pastry rounds served hot and topped with a savory mushroom sauce. This recipe goes in the opposite direction, showcasing to excellent effect the versatility of things I often have in the house and allowing me to serve them at room temperature. My Shabbat strategy for this one is to bake the pastry, leave it whole for ease, then have the tomatoes and cheese ready. Then I assemble the tart just before serving. Puff pas­try holds well overnight; just make sure not to seal before completely cooled or it can go soggy.
FOR THE TOMATOES:
16 medium vine-ripened tomatoes (about 3 pounds), cored and halved
1/4 cup plus 2 tablespoons olive oil
8 fresh thyme sprigs, plus leaves for garnish
1 teaspoon kosher salt
1/2 teaspoon freshly ground black pepper
FOR THE TART:
1 standard 9.75 × 10.5-inch puff pastry sheet, defrosted
1 large egg, beaten
1 teaspoon Dijon mustard
1/2 teaspoon kosher salt, plus more for serving
1/4 teaspoon freshly ground black pepper, plus more for serving
1/2 cup finely grated Parmigiano-Reggiano
2 ounces (1/2 cup) crumbled feta cheese
1. Make the tomatoes: Preheat the oven to 250°F. Line a large rimmed baking sheet with parchment paper. Arrange the tomatoes, cut sides up, on the lined baking sheet. Drizzle with the 1/4 cup olive oil, then scatter the thyme sprigs on top and sprinkle with the salt and pepper. Bake until the tomatoes shrink and wilt and most of the liquid pooled on top of the tomatoes evaporates, 4 to 5 hours (speed up this process by roasting at 350°F for 1 hour 30 minutes to 2 hours; tomatoes will be less dense in texture, but work well nonetheless). Cool completely, then gently layer the tomatoes in a bowl. Drizzle the remaining 2 tablespoons oil over the tomatoes and seal in an airtight container; the tomatoes will keep, refrigerated, for 1 week.
2. Make the tart: Preheat the oven to 400°F. Arrange the puff pastry on a sheet of parchment and roll it out slightly (to about 11 × 12 inches). Pierce all over with a fork. Whisk the egg and mustard in a small bowl and brush on the tart, season with the salt and pepper, and sprinkle with the Parmigiano-Reggiano. Bake until the pastry is puffed and golden, 18 to 20 minutes. Cool completely.
3. To assemble the tart, layer the tomatoes on top of the pastry, scatter the feta on top, garnish with thyme leaves, and sprinkle with salt and pepper. Use a pizza cutter or sharp knife to cut into squares and serve.
From Shabbat: Recipes and Rituals from My Table to Yours by Adeena Sussman, published by Avery, an imprint of Penguin Publishing Group, a division of Penguin Random House, LLC. Copyright @ 2023 by Adeena Sussman.