The Author of the Wildly Successful 'The Swedish Art of Aging Exuberantly' Has Some of the Most Refreshing Advice We've Heard
Margareta Magnusson casts a bright light on how to live fully. Her first book, the 2018 international bestseller The Gentle Art of Swedish Death Cleaning, waxes about döstädning, the Swedish term for clearing out the clutter to allow you—and your loved ones—more freedom and joy.
Now Magnusson is back with a new book, The Swedish Art of Aging Exuberantly, which is true to its title. With every piece of wisdom, the author and lauded artist is unsentimental and funny. She's also straightforward. She shares that her latest book came to be during the dark, death-laden days of lockdown. "In writing during that time, I was forced to look at what made each day worth living," she writes.
We recently called Magnusson in Sweden, her home country to which she returned after having lived all over the world as an artist, to get more of her tips for growing older "exuberantly," as she puts it. The author, who is in her late 80s, had been fielding a lot of media requests around the time we called, so she admitted to being a little tired. But still, reveling in it all. "At my age, it is all a bit too much sometimes, but I am very happy and I am very grateful."
#1: See aging as "great."
When we view aging with fear or regret, "that is a problem," says Magnusson. "Because if you're not sick, aging is just great." This isn't a Pollyannaish statement, however. The author says it is up to you to "work on yourself" to view getting older as a positive. "Don't be sad about aging. It's a pity if people do that."

#2: Stay open-minded.
One of Magnusson's greatest hits of wisdom was born from regret. "I must admit, I have not been open-minded all the time. I wish I had been," she writes. When we asked her to elaborate, she told us that it's critical to always look around, engage with people, and listen to what's happening in the world. "Don't close yourself in," she adds. "To be open-minded is important."

#3: Find beauty, especially when things are hard.
Magnusson recounts times of living in fear, from personal tragedies to global public ones. How has she kept her head up when the world feels like it's crumbling? we asked her. For one, we must face that there is always hardship in the world, she says. "When you have gotten this old, as old as I am, you have to face that story enough." And we also need to lean into joy and beauty. "We have to try to be happy with the small things around," she adds. All the flowers on my balcony. The little things like that. When you look at that, it makes everything much easier."

#4: Keep young friends.
"This is something I appreciate," Magnusson says of spending time with those who are much younger than her. "It's just wonderful. [Young people] look at things in different ways. They are open-minded, really. You have to listen to them. Even if you don't think just like they do, it's good to know what they think and what they appreciate."
"And it's a lot of fun, too."

#5: Indulge—and boogie!
"You must have fun," the artist mandates. How does she do this? Ideally, on the dance floor. "I'm sorry to say that I don't walk very well. Otherwise, I would have still been dancing a lot," she tells us.
But for this, she has a consolation—a good one. "Eat chocolate. And take a gin and tonic with your friend!"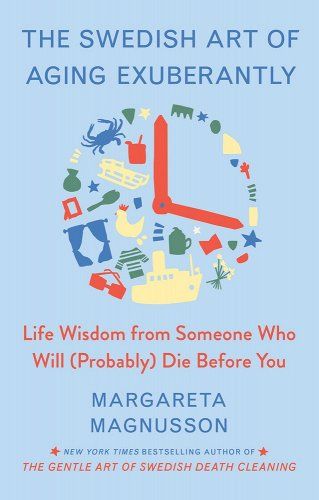 Born in Sweden, Margareta Magnusson has lived all over the world. She graduated from Beckman's College of Design and her art has been exhibited in galleries from Hong Kong to Singapore. She is the author of The Gentle Art of Swedish Death Cleaning and The Swedish Art of Aging Well, which you can order HERE.
---
Question from the Editor: How do you live exuberantly? We'd love to know in the comments below!