Women in Iran Are Leading a Human Rights Revolution. Activist Nina Ansary Tells Us How We Can Help Their Fight
More than two weeks ago Iranian women began flooding the streets after the death of Mahsa Amini, a 22-year-old woman who was arrested and brutally beaten by Iran's morality police for improper veiling. Now the women of Iran—who are joined on the streets by all genders—are fighting. They are demanding justice for Amini's death and freedom from an oppressive regime. "Iranians are suffering," says Nina Ansary, Ph.D., an Iranian American author, and internationally renowned women's rights activist. "They have reached their limit and want change from a regime whose legacy—to date—has been 43 years of egregious human rights violations, including gender apartheid and the persecution of religious minorities."
The Sunday Paper spoke to Ansary on Thursday, day 15 of the protests of Iran, about the force of Iranian women, what they want us to know, and how we can—and must—amplify their voices.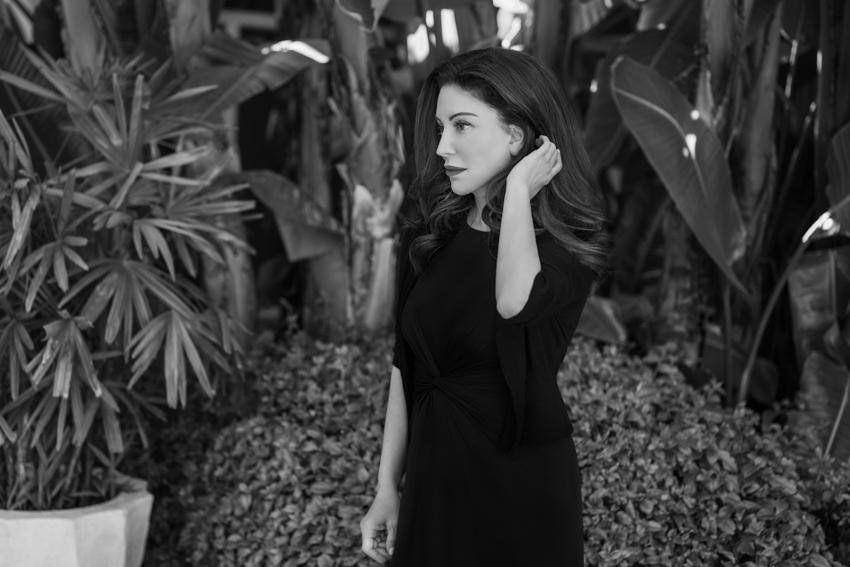 A Conversation with Nina Ansary, Ph.D.
These protests in Iran have been going on for more than two weeks. The government is showing no signs of reconsidering the veiling law requiring women to cover their heads. What is critical for us to know?
I want to first clarify: This has gone beyond wanting to change the mandatory veiling laws. What we are witnessing today reflects decades of brutal repression and Iranians are fighting for freedom, basic rights, and human dignity. They have endured unimaginable hardship due to inflation, corruption, economic mismanagement, and a lack of social and political freedom. The regime's modus operandi has always been to silence opposition and dissent through coercive measures, intimidation tactics, torture, and harsh prison sentences.
The women-led protests have gained momentum and an internet shutdown and a violent crackdown by security forces have failed to contain the uprising. Iranians are fearless, they are determined more than ever, and refuse to back down. Mahsa Amini has become a symbol of freedom for Iran.

To clarify, women in Iran are not fighting religion, but rather they are opposed to the barriers and being strong-armed. What is their overall fight?
This is a great question. And I want to clarify again that this has evolved into more than a women-centric issue. Iranian women have been resisting the gender ideology of this regime for decades. The Islamic Republic has undertaken most of its atrocities under the guise of religious will. And this includes interpreting Islam in a way that exonerates them from a plethora of gender discriminatory policies and laws. Mahsa Amini paid the highest price for the regime's misogynistic and antiquated gender policies. The protests sparked by the death of Mahsa Amini have led to global outrage with many countries around the world showing their support and solidarity for the people of Iran. This is not the first time Iranians have voiced their dissatisfaction. The last protest, back in 2019, was primarily against high gasoline prices and the rising cost of living. Instead of addressing people's grievances, the regime retaliated by shutting down the internet and massacring over 1500 Iranians. Today, they have once again retaliated by shutting down the internet and undertaking a violent crackdown with over 100 killed and 1800 imprisoned so far. They have additionally taken to arrest journalists, artists, and athletes who have shown their support for protestors.
This is a pivotal moment in history for Iran and Iranians are willing to take a bullet, not just to change the mandatory veiling laws, but for freedom and to bring an end to this regime.
[Editor's note: The current regime of the Islamic Republic of Iran includes Supreme Leader Ali Khamenei, who has ruled since 1989, and President Ebrahim Raisi.]

You've said, "The Iranian woman who has accomplished something in post-revolution Iran is to be applauded so much more than one of us in this country [the US]." Talk about the ambition of women in Iran in the face of the brutal patriarchy.
Women in Iran account for 65 percent of university graduates. Iranian women are at a 97 percent literacy rate. And they make up 70 percent of STEM force graduates, which is one of the highest in the world given the low percentage of women in the stem fields due to discrimination and stereotypical assumptions that permeate this sector. For women to have excelled in this environment is extraordinary and is a testament to their resilience and determination to overcome obstacles and challenge the status quo.
Obviously, any accomplishment by women is to be applauded. We all know how women globally have had to contend with not only gender discriminatory laws but also stereotypical assumptions that continue to hold them back from realizing their full potential. But it's important to understand that Iranian women are up against insurmountable odds. You have a country that has enshrined gender discrimination within its constitution. Systemic discrimination permeates nearly every facet of life. But here is a generation that has excelled in practically every field. Iranian women serve as role models for women in other oppressive societies. They have become award-winning authors, filmmakers, journalists, scientists, and Olympic athletes. The late professor Maryam Mirzakhani, who was the first woman to ever win the Fields Medal also known as the Nobel Prize in Mathematics, was born in this patriarchal climate and was able to reach the pinnacle of her career despite the odds.
It is important to make note of the fact, that even if all the gender discriminatory policies and laws are reversed, with quotas imposed to rectify the imbalance, we still have to contend with the invisible barriers—the stereotypical assumptions—that hold women back. In many ways, it is equally challenging to change the mindset.

How can we fight for and amplify the women and people of Iran?
Iranians need to be heard, seen, and supported. And with the internet shut down throughout much of the country, that's becoming increasingly more challenging for them. Therefore, any way that we can amplify their plight and raise awareness would be tremendously helpful. If you have an online presence, post and/or share to keep the spotlight on what's going on inside Iran. Anyone who has a platform—influencers, journalists, activists—and can continue to raise awareness and give a voice to the people of Iran would be greatly appreciated. We also need more world leaders as well as women in leadership positions to show their solidarity.
Furthermore, the global outrage in support of the women and people of Iran needs to be followed by specific action from the international community in order to tackle the crisis of impunity that has allowed brutal repression from torture to extrajudicial executions to unlawful killings and violence to continue. It is therefore critical to call for the establishment of independent international investigation and to urgently establish accountability mechanisms that protect people from horrific crimes by their own authorities, including the case of Mahsa Amini as well as countless others. The regime in Iran must be held accountable for its crimes against humanity.

What organizations—governmental or independent—do you recommend one supports or reaches out to? Is the UN a good place to start?
It is important for an organization like the UN to set up independent mechanisms to ensure accountability for the most serious crimes under international law. But the problem is that the UN is in some ways culpable for enabling and legitimizing the regime in Iran. In 2021, the UN elected Iran, a regime known for its notorious brand of gender apartheid, to its Commission on the Status of Women—a Commission committed to women's rights, gender equality, and the empowerment of women. In my opinion, this is a grave injustice as Iran should not be given such a platform.
Amnesty International is a great organization publicizing human rights violations. In terms of helping Iranians have access to the internet given the shutdown, The Tor Project, a non-profit, provides inexpensive ways to set up servers and circumvent censorship.
There is still much more that needs to be done to keep the momentum and hopefully reach the finish line without more bloodshed and violence.
It's high time for regime change in Iran. The courageous women of Iran are determined more than ever and will be at the forefront of change.
Editor's note: Are there any tactics or organizations that publicize women's rights and/or human rights that you recommend? We'd love to know in the comments below.
---
Nina Ansary Ph.D., is an award-winning Iranian American author, historian, and UN Women Global Champion for Innovation. She is the Director of the World Affairs Councils of America Global Women's Lecture Series and the Director of the Cambridge Middle East and North Africa Forum Women's Leadership Initiative at the University of Cambridge. She is the author of two books: Anonymous Is a Woman: A Global Chronicle of Gender Inequality and Jewels of Allah: The Untold Story of Women in Iran. Learn more at ninaansary.com.