Death Rocked the Lives of These Sisters. What Followed Was a Best-Selling Book, a New Netflix Series, and Wisdom We All Need
Sisters Attica and Tembi Locke are telling a story of love and loss with their new Netflix series, From Scratch. Inspired by Tembi's bestselling memoir, the series—which stars Zoe Saldãna—takes viewers on a love journey that transcends cultural lines, honors family, and explores the depths of grief. It is a deeply personal story for the Locke sisters. In 2012, Tembi lost her husband, Rosario "Saro" Gullo, to cancer. In the years following, the actor and advocate wrote about her experience, which resulted in her bestselling memoir, From Scratch: A Memoir of Love, Sicily, and Finding Home. She has since partnered with her sister, Attica, a bestselling author and TV and film producer, to take the story to the screen.
The sisters' perseverance through their grief makes for an inspirational story to tell. But what makes the Locke sisters even more remarkable is how they thrived. The Sunday Paper chatted with the duo about just this and what grief has taught them about our shared humanity. As Attica says, "I hope that we are putting something into the world that is a salve."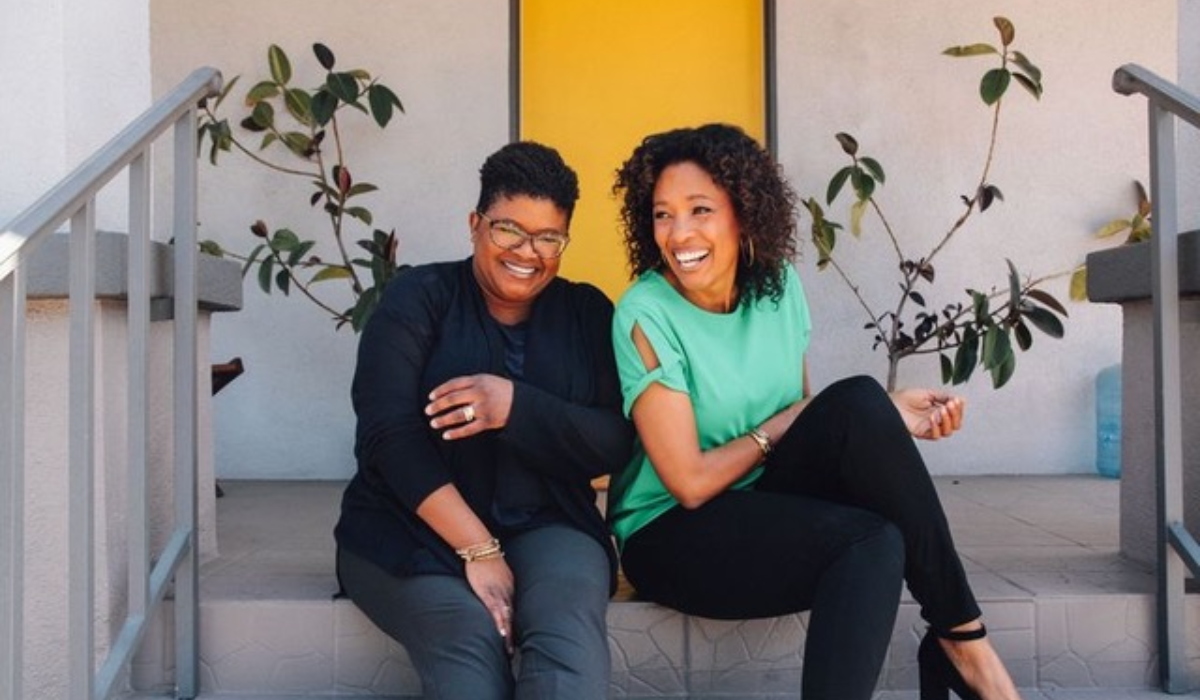 A Conversation with Attica and Tembi Locke
From Scratch is personal for both of you. How do you feel now that the story's out on the screen?
Tembi: I've had the pitter-patters. A feeling of Oh my gosh. I remember when the book was about to come out and I felt this incredible vulnerability. I had done the thing that I set out to do and that felt so big and tender. Attica had said she felt that way when all her books came out. It's your soul on the page. And this is our soul on screen. There's a vulnerability and there's an excitement. There's gratitude, humility, and joy. We made the thing! And we did it together.
Attica: I'm simply stunned. Every noun and adjective Tembi said, I feel all of those things. I also feel the bigness of love and the possibility of bringing something into the world that offers any kind of guidance to make it through. We've talked about [The Sunday Paper] and what you all put out into the world. I think of that [Ram Dass] statement, "we're all just walking each other home." We are all just trying to figure this [life] out. So art, journalism, and materials that help us navigate making sense of where we are in the world, I am humbled by.

We talk about grief at The Sunday Paper and how it's a unique journey for everyone. You both suffered a great loss with the death of Saro, Tembi's late husband. What have you both learned about navigating grief?
Tembi: Thank you for acknowledging the loss. It is a lifelong journey of making sense of the tenderness of it. My husband, Saro, passed away 10 years ago and even now when someone says 'I'm sorry' it's so meaningful. I think we, as a society, don't always stop to do that with each other. We don't stop to acknowledge our losses or acknowledge them in others. Or we think that a prescribed period of time has passed, so maybe we don't bring it up anymore. After my first year and into the second year, it became less frequent to me that people would ask me how I was doing or how my grief was unfolding. Yet the grieving person still very much needs to hear and speak the name of their beloved and to be honored for the loss that they carry. Because I believe we carry our losses. So right now, on this call, we're modeling something I think we should do throughout society, which is to acknowledge our grief.
Attica: I've learned that grief can show up masked as something else. I have this theory that there's one death in everyone's life that pulls the string on everything you thought you understood. It has to do with who that person was to you, how old they were when they died, how they died, and how old you were. It's an alchemy of things. This all tells me about the depth of the grief. By the time I walk up to my parents' passing, I will have a knowledge about how deep grief can go that I didn't have before Saro, who was one of my best friends.
Also, I will sometimes get what I call a 'grief bubble' coming, where I get this profound anxiety. And I'm shocked at how grief can 10 years later look exactly like it did 10 days after somebody died. It can arrest you. This lifelong experience with it is so real.

How has facing this loss rather publicly impacted how you remember Saro?
Tembi: People talk about the waves of grief. For me, making the series and writing the book brought Saro back to me. I felt like I could hold on to him; that he was with me. I don't feel like I wrote that book alone. I would light a candle and I'd say 'I'm writing today, you want to join me? I'm telling our story and I'm doing the best I can here.' I felt his presence very near. And I feel like he left me clues. I would want to remember something and I'd open a book of his and something would fall out that would lead me into something that would open up another memory.
I always encourage people to write, if they are inclined, as a part of their healing process. Writing and making the series gave me back a sense of the depth of breath of our life. Attica and I both wanted to honor Saro, his culture, and his family. It's been a love that has been full of joy and full of grief. Bitter and sweet, which I fundamentally think is life. Saro did not have an American sensibility, which is always about happiness and joy and the pursuit of all the things. Rather, [Saro's sensibility] was, how about we enjoy this olive tree or we have a meal? I learned this whole other understanding and paradigm of the world, which became clear when he became ill. It was all sharpened.
Attica: The beauty of him was this sense of being fully alive in the face of whatever it was. You two used to crack each other up. Even when you were facing whatever you were, you knew there was still love. You knew you could still cook, you had music, you had your music. That is how he lived his life. So inspiring. He changed everybody in our life.

You two grew up creating together, which you continue to do now. How has creativity played a role in your lives and healing process?
Tembi: The other day I was remembering an early play that Attica and I did as children in our grandmother's home. We would stretch out whole afternoons in an imagined world. Our grandmother always made space for our play. She valued what we were doing because she saw that we needed to honor our imaginations. There was value in doing that, especially for young children, for young girls and for young black girls, to be able to have a space that was just ours that we could create and craft in our own likeness and with our own interests. That early developmental and formative experience of having an adult say, 'This has value, go do it like and do it all afternoon' set forth in both of us is an understanding that our creativity mattered. And that we could and should make space for it in our lives. Also, our parents, when they were divorced and trying to rebuild their lives, put us in the arts programs.. The collective of all that has meant that I have a deep reverence for my creativity. It has saved me. And when I say saved me, I mean it saved me. As an actress who just got to LA and when I couldn't book a job, I could still pick up a camera and go take pictures. I can learn how to paint. I could write. There are parts of our creativity that we always have access to, not with a professional pursuit, not because we want to show it to anyone, but just because it is the province of our own mind and heart, and soul. We owe it to ourselves to take the time to explore it.
Attica: I also want to honor the fact that we didn't get roadblocks from our parents. They might have been a little confounded at times, but they never said, 'We don't support this.' I can't imagine a time in my life when I wasn't writing, where I wasn't engaged in the pleasure of being inside my own imagination. I've always felt this sense of wanting to pay myself first with my time. It's harder to do now as I'm older because I have a child and responsibilities. But making sure that there's always some time that's just for Attica and what Attica wants to play around with in her mind has incredible value. It's been my way of processing being alive. I also consider consuming art to be an act of creativity. I consider my reading and my looking at art as being a part of being in a creative space. It has also saved me. It has given me guidance.
Speaking of Saro's influence, I remember when I wrote my second novel, I was really struggling with some reactions to it. I remember he said, 'Attica, just keep writing.' It was so divorced from what other people think of it. Just do the thing you like to do. Just do it.

What would you say to someone who wants to nurture their creativity, either to heal or simply to feel alive?
Tembi: It's about finding and speaking of beauty—always. I mean that in an aesthetic sense, but I also mean the beauty of making space to connect with your own soul. It's about making space for all that's sacred and that is just for you and your creativity over the arc of a life. If you choose to cultivate that and make space for that, it will lift you, it will inspire you, and dare I say, at times it will save you. As a widowed person and a new mom, I needed time for just me, to do what I needed to do—that felt freeing, loose, open. That's what I consider being creative to be. It doesn't matter what thing you're doing. You can be creative washing a car. It doesn't matter the activity, what matters is making the space to do it. And having a sense of the sacredness around it.
Attica: I want to share something, which I have not spoken about in an interview before. When I think of the word creative, I think of creation. And I think of something that I added to the series, which is the thin line between birth and death. I was with Tembi for a good portion of the night that Saro was passing. Death is, in many ways, like birth. What I witnessed was my sister birthing him to the other side. She went through all the waves of it. It got hard at times. It was exhilarating at other times. And it is honestly one of the most achingly beautiful things I ever experienced in my entire life, even while it was wrapped up in the most searing painting of loss. What I saw had its own kind of creativity and its own creation. I want to honor that part of the story, which captures that in the loss there is also the exhilaration of having lived a good life.
There is such beauty in that. I'm so glad that Saro had that experience. I'm so glad that if he had to go, he went out with my sister, in her arms.
You can watch From Scratch on Netflix now. Learn more here.
Tembi Locke is bestselling author, TV producer, actor, screenwriter, advocate, and mother who is a nationally recognized speaker for her keynotes on resilience, loss, and family. Her online platform, The Kitchen Widow offers a space for conversations about caregiving, grief, parenthood, and illness.
Attica Locke is a bestselling author who has written five novels and been honored with many accolades, including an Edgar Award, among others. She is also a screenwriter and producer with credits that include Empire, When They See Us, and Little Fires Everywhere.
---
Question from the editor: We appreciate how honest Attica and Tembi Locke are about their grief journeys and how creativity saved them. At The Sunday Paper, we're curious to know: What has helped or saved you during trying times? Join in on the conversation below.