Sunday Paper Recommends—Week of July 30, 2023
At The Sunday Paper, we often discover books, podcasts, films, and other works that move the needle and spark inspiring change. We hope these suggestions—plus this new recipe—open your heart and mind and encourage you to come together for meaningful conversations.
What We're Watching
Freediving is an unparalleled extreme sport with immeasurable risks and consequences. The Netflix documentary The Deepest Breath explores the depths of freediving and the emotional, mental, and physical depths the athletes push themselves toward.
What We're Reading
Jennifer Weiner, acclaimed novelist and Sunday Paper friend, has released her latest novel— and it's the perfect book to revel in mid-summer. The Breakaway tells of soul-searching, love, and travel in Weiner's signature ways with words. (If you're curious to learn more about Weiner, read our conversation with her here.)
Also on our radar: The moving novels by Colleen Hoover. The prolific author has penned numerous novels, so many of which have held places on The New York Times bestsellers list. If you're seeking the best entrance to Hoover's work, we recommend It Ends with Us.
What We're Listening to
Sunday Paper friend Steve Schmidt invited Maria on his wildly popular podcast The Warning to discuss how technology is impacting young people, how to reach men in crisis, and Maria's hope for the future of the country. You can watch their full conversation here. Or listen on Apple Podcasts and Spotify.
What We're Making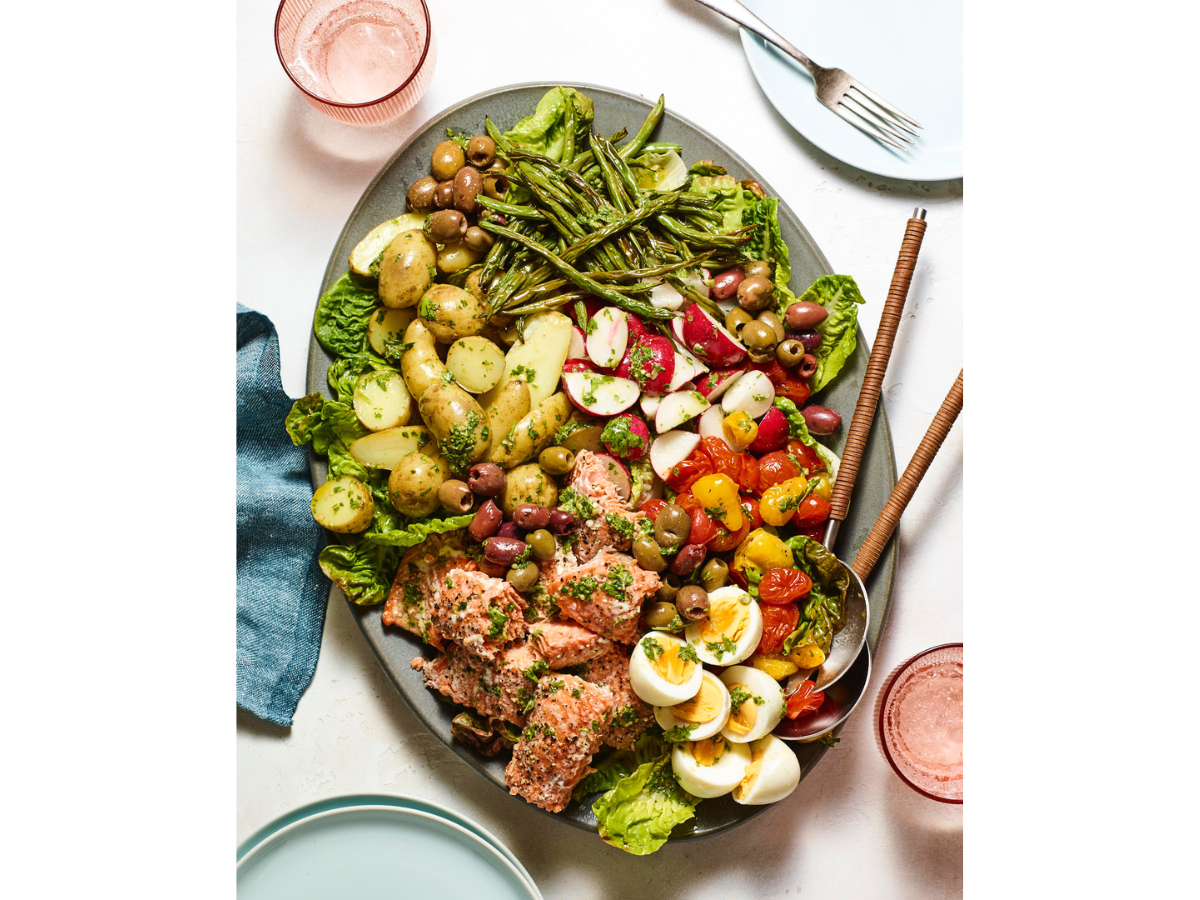 Salmon Niçoise (Foodwise, Mia Rigden)
Serves 4 to 6
Ingredients:
1 pound fingerling potatoes
Sea salt, to taste
1 pound cherry tomatoes
½ pound haricot verts, trimmed
¼ cup plus 3 to 4 tablespoons extra-virgin olive oil
Freshly ground black pepper, to taste
3 large eggs
1 cup fresh parsley, leaves and stems
4 to 6 fresh basil leaves
½ garlic clove
6 oil-packed anchovies
1 teaspoon Dijon mustard
1 tablespoon lemon juice
1 ½ to 2 pounds salmon filets
2 heads little gem lettuce, leaves washed and separated
1 bunch radishes, quartered
½ cup mixed Greek olives
Pinch of Maldon sea salt
1. In a large pot, add the potatoes, cover with water, and season with a generous amount of sea salt. Bring to a boil over high heat and cook for about 5 minutes, or until a knife easily cuts through the potato.
2. While the potatoes are cooking, create an ice bath in a medium-size mixing bowl. Drain the potatoes, and place them in the ice bath to stop the cooking process. Once cool, halve the fingerling potatoes and set aside.
3. Preheat the oven to 350 degrees Fahrenheit. Place the cherry tomatoes and haricot verts on a baking sheet. Cover with 1 to 2 tablespoons of the olive oil and a generous pinch of sea salt and black pepper. Roast for 20 to 25 minutes, or until the tomatoes burst and are lightly browned. Set aside to cool.
4. In a medium saucepan, add the eggs and cover with water. Bring to a boil, then turn off the heat and allow the eggs to cook for 7 minutes, then place in an ice bath.
5. Make the dressing. In a food processor, add the parsley, basil, garlic, anchovies, Dijon mustard, lemon juice, and ¼ cup of the olive oil, and pulse until combined, but not pureed. Set the dressing aside.
6. Heat the grill or preheat the oven to 350 degrees Fahrenheit. Season both sides of the salmon filet with kosher salt and black pepper, and rub with a tablespoon of the olive oil. Grill or bake the salmon for 15 to 25 minutes, or until cooked through.
7. While the salmon is cooking, assemble the salad. Dress the little gem leaves, radishes, and fingerling potatoes individually with a little olive oil and kosher salt. Then, on a large platter, arrange the little gem lettuce leaves, radishes, Greek olives, tomatoes, haricot verts, and fingerling potatoes.
8. Peel and halve the eggs and add to the platter, leaving room for the salmon.
9. When the salmon is done, add it to the platter, drizzle the herbed dressing all over, and season with the Maldon sea salt. Serve family-style warm or cool.