These Are the Questions We Always Wanted to Ask Our Moms...
What Are Yours?
Here at The Sunday Paper, we count ourselves among the lucky ones to have incredible mothers—women who set examples of what it means to be strong, kind, compassionate people and who helped us become who we are today.
Our moms have been our teachers, our role models, and our confidantes. They're women who faced their share of hardships and tried to do their best for us. They're women who gave birth to us, and women who've come into our lives a little later. They're women who taught us how to be mothers ourselves.
To celebrate Mother's Day, we thought we'd each pose a question to our mothers that we've always wanted to ask but haven't yet. The answers left us filled with even more gratitude, love, and admiration for our moms—and in awe of all of the moms (and mother figures!) out there showing up in the world with their big, beautiful hearts.
A CONVERSATION WITH OUR MOMS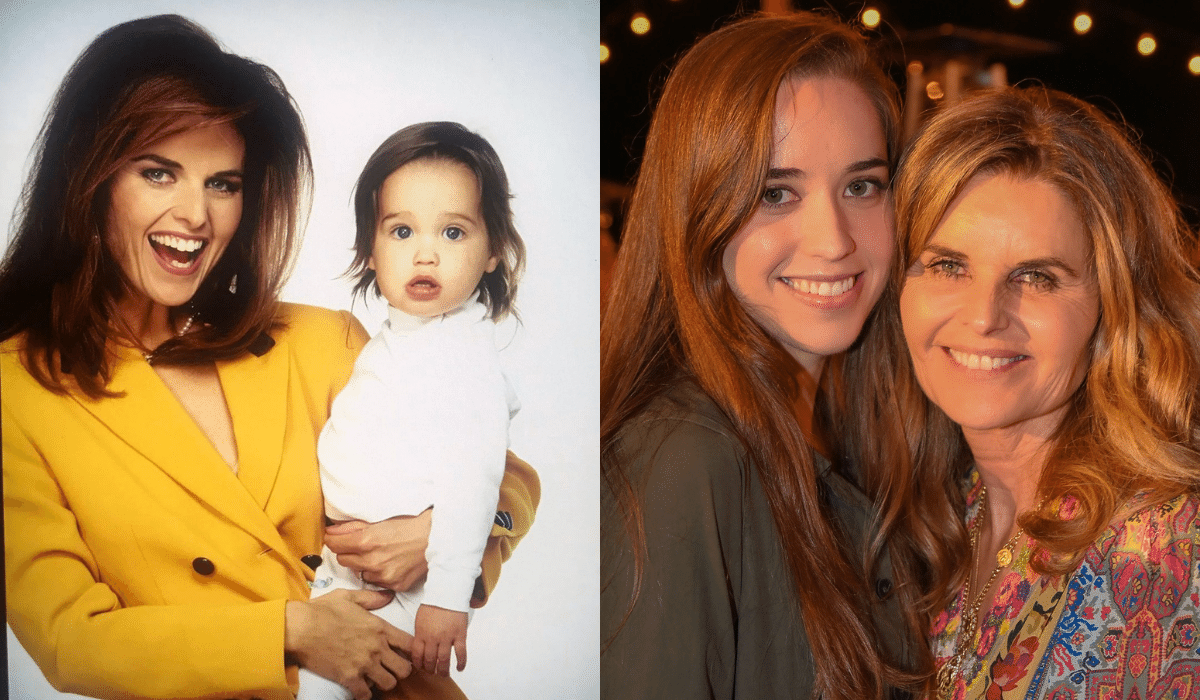 CHRISTINA SCHWARZENEGGER, Editor-at-Large, and her mom, Maria
You've mentioned that you were scared to have kids. That you would 'mess it up' or that you would be a bad mom. Where did that fear come from? How did you deal with that?
I think the fear came from not believing in myself as a mother. I'd never been a mother. My mother was so strong and formidable and I knew I wanted to be gentler mother, but didn't know how. I was also scared because I didn't know how to combine my work as a journalist with being a mother and I was afraid that I couldn't do both. I also hadn't seen a woman do both. I knew my husband was building a career and traveling a lot so I was afraid of having to do everything alone. At the time, I also didn't have any friends with kids.
I tried my best and felt my way along. As soon as I held my baby, I felt, I love this. I want to do this. I was also used to feeling alone a lot, but once I had a child, I no longer felt that.
Each of us kids have different personalities and unique needs. How were you able to balance that? What were some of the greatest lessons you learned from that?
I had to downgrade my career a lot. I also had help and hired a great nanny. I set out to learn what I could about each of you kids. I wanted you to be who you were as individuals and not all treated as the same. Growing up I always felt lumped together with my cousins, so it was important to me that each of you felt seen individually. I focused on your unique interests. I had each of you do a lot of sports and different activities to try and see what each of you liked and enjoyed, and then I tried to support that.
I learned that to truly see another person, it takes time and that you have to pay attention. You want to play with your kids but also want to set boundaries, rules and expectations. I wanted you all to love one another, support one another, and see yourself as part of a family but also know that you are each unique. More than anything, I wanted for each of you to feel loved, to feel enough, to feel seen, and adored.
---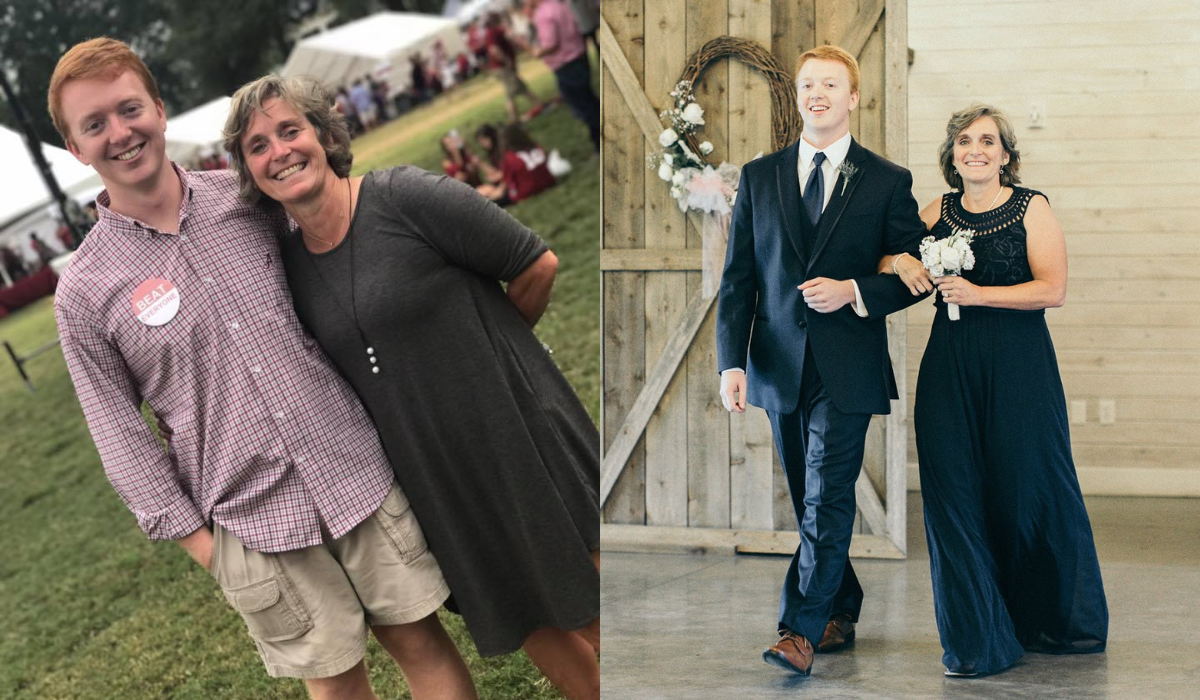 BENTLEY MADDOX, Associate Producer and Deputy Editor, and his mom, Selina
Growing up was difficult for you, strained in particular by difficult parents. What did you bring to your role as a mother to me and my three sisters as a result of your experience?
What I hoped to bring into being a parent was to provide a safe place for you guys to grow up. A place where we were open and able to communicate. I wanted to basically be the parent that I never had.
Since I had no role models, that looked like what I wish I would have had: a home full of love, understanding, compassion, and being there for you kids no matter what. Hopefully over the years you all have felt that throughout our family struggles. I also wanted to treat each of my four children as individuals and not stereotype or put you in roles. Especially when I had twins, I wanted to make sure that you felt like you could follow your own path. I wanted to have a safe place of love where you felt like you could grow and be yourselves.
I think you did that.
Well, I hope so. I had to take on a whole lot of adult responsibilities at about age 8, 9, 10 out of necessity. But I wanted all of you to have responsibility and independence while building self-esteem from it. I wanted to try to set you up for success. Your Dad and I would give you money to go to the concession stand to buy something on your own, and the smiles that y'all came back with showed that that was something really big to you. Yeah, we were looking over your shoulders and making sure everything went okay, but we wanted you to have responsibility for yourselves because I thought it would benefit you guys in the long run. So, I tried to take that negative and turn it into a positive for you.
---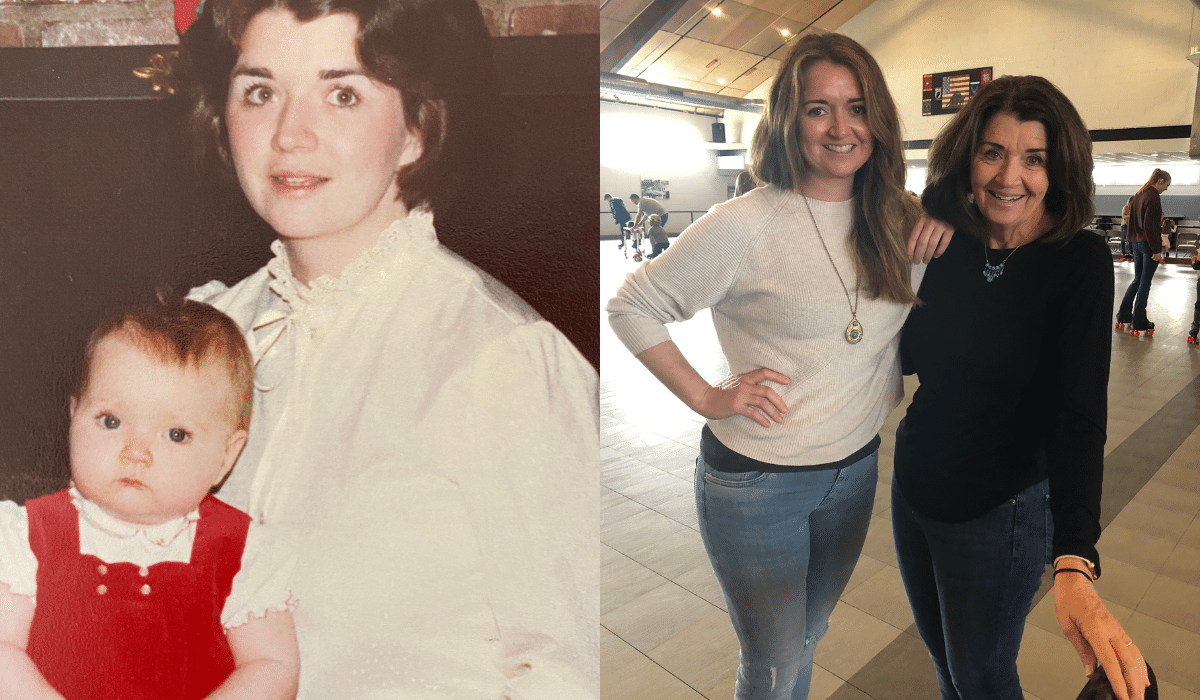 MEGHAN RABBITT, Senior Editor, and her mom, Mary Anne
One of my favorite memories of the shelter-in-place days of the pandemic is our coffee-talk phone dates. I feel like I got to know you in a new way. How would you say our relationship has changed and evolved?
We've talked pretty regularly over the years, but during the pandemic our phone calls felt even more important—like a cherished event within this new world in which we all found ourselves living. And I love how our chats would run the gamut from politics and the latest Ed Yong piece in The Atlantic to what you were making for dinner and what I was ordering for the grandkids on Amazon.
I think when you were growing up, my role as your mother was so clear. I was your mom; I wanted to set an example for you about how to show up in this world. Now, I'm 68 and you're 43, and I think our relationship has morphed more and more into a friendship. I see you in a role outside strictly my daughter, which is fascinating! Now, the door is open to talk about all kinds of things without my "mom" role being in the way. It's as if we've passed through this portal of mother-daughter into a new world of person-to-person, and there's an openness there that inspires a deep sense of acceptance for whatever comes up.
There's a unique kind of love you experience as a mother, and a bond that's there with your child from birth. I think if you're lucky, that bond morphs into something different as you both get older.
But I'll tell you one thing that feels exactly the same. When you asked me to look for pictures of the two us when you were a baby, most of them are shots of you looking at the camera and of me beaming at you. You and your sister light me up in a way I could never put into words. You always have. And you still do.
---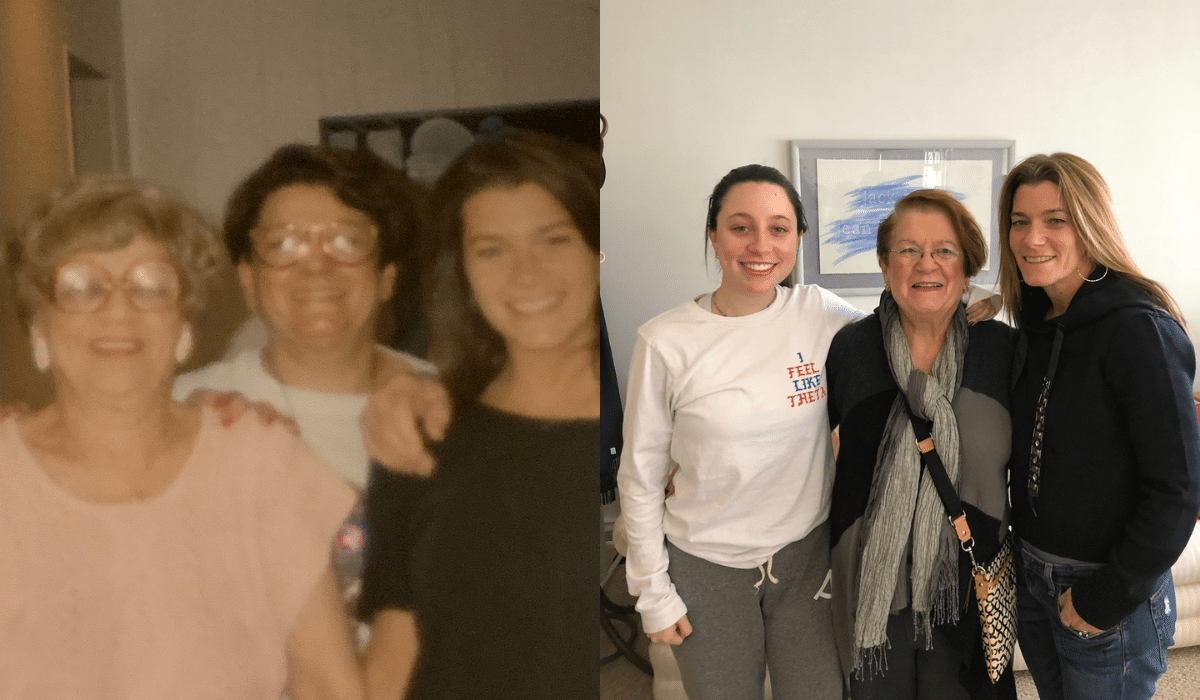 JACKIE LEVIN, President of Shriver Media, and her soon to be 88-year-old mom Moreyn, daughter Greta, and Grandma Edith
What's one of the biggest lessons you learned from your own mom, my Grandma E, who I remember as a force to be reckoned with and a stylish, fierce shopper?
Your Grandma E grew up most of her life without much money, but despite this, making sure her family was well fed and had nice clothes to wear was a priority for her. She would take out a needle and thread and stitch up any hole she would see if necessary. Papa Harry drove a taxi at night in Chicago to earn a living. His great love though was playing the violin, which your son inherited.
When Papa Harry died, Grandma E went to work as an insurance adjuster traveling downtown every day. She earned a living so that me and Uncle Jerry, who was 12 years younger than me, would always have a good meal on the table. My mother taught me how important it was to make sure my family was always well taken care of. Grandma E nurtured our family through food and fashion, and I wanted to do the same.  
Unfortunately, I never really picked up the cooking skills from either of them, but the best piece of advice Grandma E gave me before she died was to always maintain my independence as a woman and to support myself through my work. So it was quite telling when I asked my 23-year-old daughter, Greta, what she's learned from me.
My mom has shown me the importance of strength, especially as a working woman. She taught me to, respectfully, stand my ground and believe in myself even when others might not. And for the times where my strength may falter, she is always there to be strong for the both of us. I fear I have learned very little about being a mom from my mom, because, quite frankly I still don't know how she does it. She pursued an extremely successful and high-powered career while never sacrificing family time for a second. She gave me the image of a career woman to look up to, while picking me up from gymnastics every Thursday, showing up to all of my dance shows, and moving me in and out of each of my college apartments. As I grow older and begin my own career, I am only further confused by her ability to do it all—something I hope to be able to do half as well as she did for my own kids someday.
Well, I'm crying! The secret is to cut yourself slack because while you can do it all, you can't do it all perfectly all the time. Sometimes you're gonna fall down as a parent and do a really great job at work, and sometimes you're gonna fall down at work and do a really great job as a parent, but you have to allow yourself the space to f'up, which I was never really good at, but once I stopped feeling guilty about being a working parent I was able to really throw myself into my work while still being there for you both. I love you.
---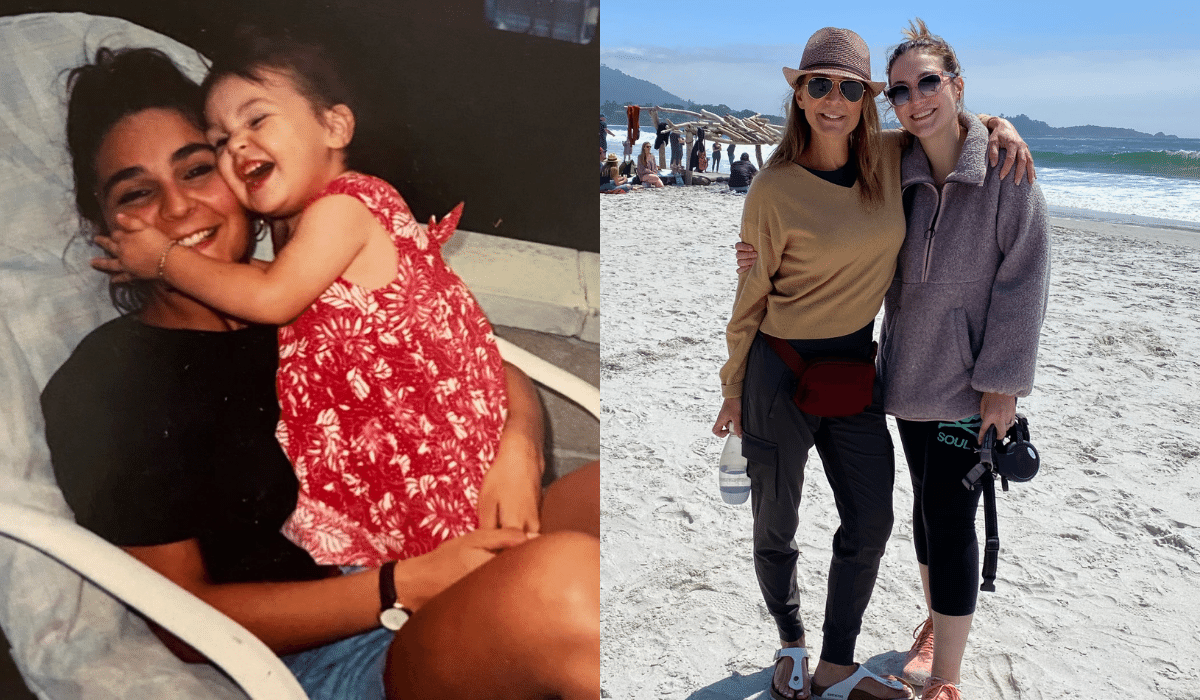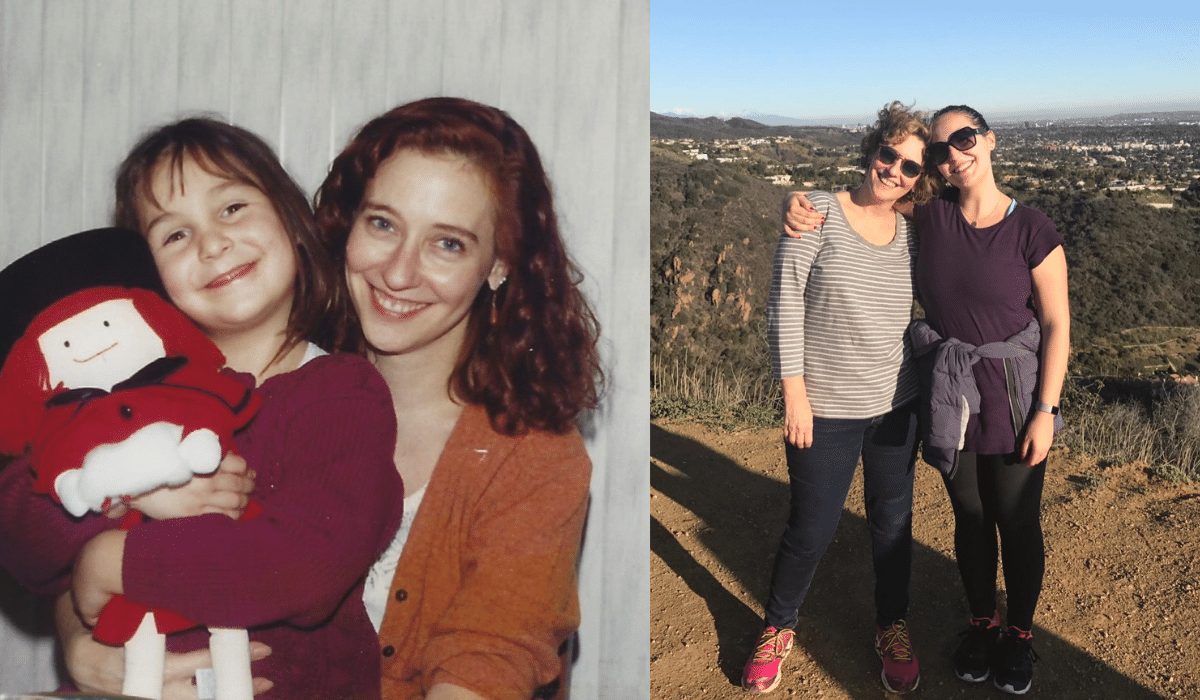 CYDNEY WEINER, Shriver Media Communications Director, and her mom, Kimberly and stepmom, Nancia
Mom, what's one thing you know now about being a mom that you wish you knew when I was little?
I wish I knew how to ask better questions at better times when you were little, when you were smaller. I feel like our relationship is so much better as an adult to an adult. I was young when I had you. Looking back, I wish that maybe I knew better how to ask the right questions at the right time in your life. And perhaps I would have been able to realize your needs better. Now as an experienced mom, I have come to learn that this is super important in a relationship with your daughter and that asking random questions at random times is just small talk. You need to delve deeper for a meaningful relationship. I wish I would have known that so that, maybe, we could have been a little bit more on point.
Nancia, even though you came into my life when I was still young, did you ever feel like being a stepmom was a thankless job as I grew up?
No, not thankless. But sometimes it was challenging not to feel hurt or angry over some of the ups and downs. I knew that as a stepdaughter, you were in a difficult position. And inevitably, you would act differently towards me depending on what conflicted loyalties you might be feeling at the moment. I had to work to gain your trust and not take it personally when I had to do it over and over again. It was my job to keep the course, and trust that we would find our way to a real and loving relationship. And of course, we did.
---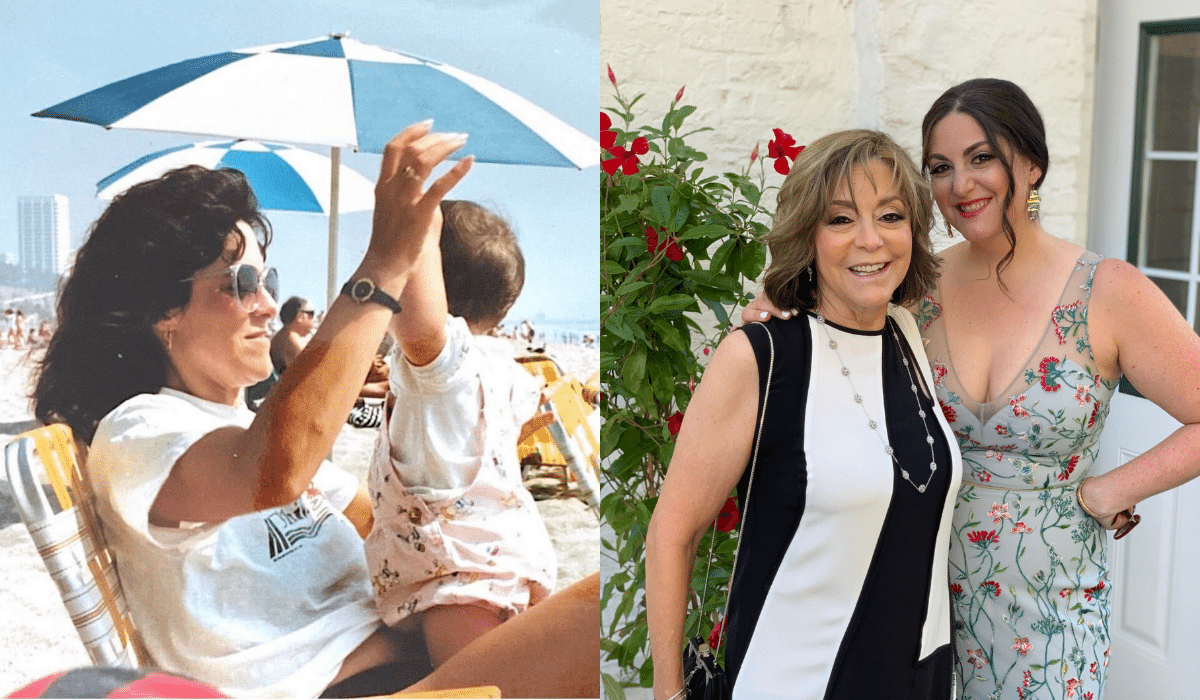 MARA FREEDMAN, Social Media Director, and her mom, Gwen
At 15, I almost died from a blood clotting disorder. That was the first time I can remember seeing you cry. Did my experience change the way you view life (and death)?
As you know, I do not cry easily.  I was horrified that you had to endure such trauma and the surroundings of the ICU. The uncertainty of that experience and not knowing what your future was or would hold was the most difficult experience I have ever been through. Your dad and I dealt with our fear and your suffering by refusing to leave your side day or night. We tried our best to keep you calm, supported, and smiling. Even when you left the hospital and we knew your diagnosis, I continued to fear for your life. I am on high alert every time you experience the smallest ache or pain. You are very precious to me.
I have lived away from home the longest of your children, but during the pandemic we got to spend a lot of time together. Did you enjoy this time alone with me? What was your favorite part of being together?
I am fortunate that we have an incredible relationship and enjoy and appreciate each other, even if normally we don't get to see each other in person too often. Covid lockdown was a gift that allowed me to be with you almost every day. I consider myself lucky to have had that time together! We enjoyed ordering food, taking long walks, and watching shows, including one of our favorites of all time, Offspring!
What is your favorite memory with me?
Your 30th birthday weekend was an absolutely magical time. Our trip to a spa near Palm Springs wasn't just fun and memorable. It also made me realize how lucky I am as a mother that you want to spend time with me. I'm so thankful that we take joy in being together.
Also, why am I your favorite child, and why do you like me the best? Elaborate!
I have 3 children, but you are my favorite youngest child! I am immensely proud of you, all that you have accomplished on your own, the business you have built yourself, and the strong and confident woman you have become.
---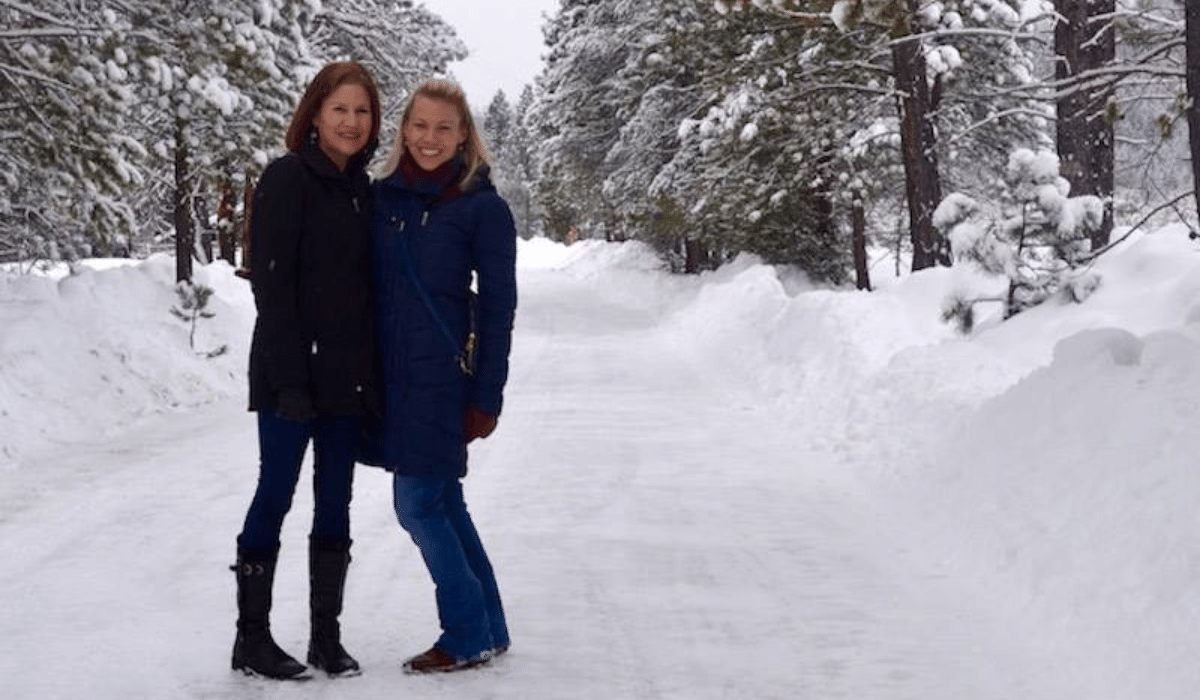 STACEY LINDSAY, Senior Editor, and her mom, Lynn
How has motherhood evolved or changed you as a person?
It made me realize how strong love is because I love you more than anything on this earth. Motherhood hasn't taken anything away from me. It hasn't taken away my adventure. Of course, I'm more careful now that I have you and your brother. But I never lost my identity from being a mother. I think I'd still be the same person if I weren't a mother. It just made me realize how strong love is.
You make motherhood look fun and you seem to enjoy it. Do you feel that?
It's really fun. I remember I used to cringe when the beginning of September came because I was losing you to school again. So yes, I enjoy it so much.
You know how open and sometimes conflicted I've been about my decision to not have children. How do you feel about the fact that I likely may not become a mother?
I'm not putting an ending on that because someday you might adopt a child. You never know. I think about that young boy that left a mark on you when you worked with children in LA. You would make an incredible mother. I think this has been a very brave choice of yours. But I also think about an article you wrote on choosing motherhood and that you don't have to be a biological mother to be a nurturer. You're extremely nurturing and you're mothering in your own way. I completely respect and admire your decision.
Thank you for being my mother.
Thank you for being my daughter. I have caused you a lot of pain. I know the best therapists would tell me to forgive myself for what I've caused you. I know self-forgiveness is very, very important, but I feel that if I totally forgave myself, it would almost be disrespectful to you. I don't wallow in the pain I caused. But I can't ever let it go completely. I am so sorry.