This Photographer Captured Beautiful Portraits In Honor of World Down Syndrome Day. Here's What We Love About Her Message Behind The Series
In honor of World Down Syndrome Day on March 21, photographer Hilary Gauld released extraordinary portraits of individuals over the age of 45, and we are loving both the beautiful images and the message behind them.
Gauld's "Here I Am" photo series includes a quote from each person featured about their thoughts on growing older, while tackling the false narrative that people with Down syndrome don't live to be older adults.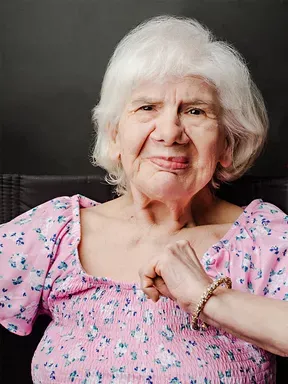 "The misconception that people don't live long full lives exists partly due to the lack of representation of people with Down syndrome over 40 across all media, including the imagery used to represent the community," Gauld said.
She added that she learned more about this group when capturing the portraits, including the experiences that make up their long and happy lives, as well as her new understanding of their caregivers' experiences.
"Their lives are full of family and friends," Gauld said. "Medals earned in the Special Olympics. Travel. Work. Activities that filled their days; walks, coloring, bowling, swimming, gardening, dancing, snowshoeing, downhill skiing, listening to records, and writing letters."
We encourage you to read more of Gauld's takeaways on People and check out the complete photo series on her website, One for the Wall.
---
Question from the editor: What was your reaction to seeing these portraits for the first time?