Millions Battle Seasonal Depression this Time of Year. Dr. Uma Naidoo Says Here's How to Beat It
Gloomier weather outside doesn't have to affect us as profoundly as it has before. Since I've lived most of my life in the far eastern US between Boston and New York, I look forward to experiencing four distinct seasons. Fall and winter is sweater season in these regions, that starts with stunning foliage and snow and leads into the holidays. Though when January comes, it does feel a little dark and cold.
As a Nutritional Psychiatrist, I know firsthand the impact of the changing seasons on mental health: seasonal affective disorder affects an estimated 5 percent of the US general population, and of this group, four out of five are women—and many live with this condition undiagnosed and untreated. My approach to mental health combines the best of modern medical advances, and talk therapy, and is especially unique because I bring evidence-based nutritional recommendations to the (literal and figurative) table.
While I always believe that the best care is personalized to each person's individual needs, there are some recommendations that are nearly universal. Here are the eight things I recommend to help my patients— and everyone—manage seasonal mood changes.

#1: Boost with berries.
SAD is often comorbid in individuals with other existing mood disorders. The mighty berry packs a depression-fighting punch with its richness in anthocyanins, a particular type of antioxidant that gives these berries their characteristic color while supporting healthy stress tolerance and anti-inflammation all over the body, particularly in the brain. In fact, research shows that consuming blueberries, which are also rich in folate, actually reduces inflammation and supports healthy serotonin levels in people with PTSD.
#2: Eat your spinach (just like Popeye!).
Rich in iron and folate, spinach packs a powerful dose of key vitamins and minerals that are absolutely necessary for the production of serotonin in the brain. In fact, folate deficiency shares a significant association with symptoms of depression, and therapy with folic acid has been shown to improve these symptoms. For an extra veggie punch, pair spinach with sweet potatoes and cherry tomatoes—shown to be among the richest sources of plant serotonin—for a delicious, mood-boosting breakfast hash.
#3: Go nuts
In moderation, nuts are a wonderful source of brain-healthy omega-3 fats, rich in fiber and protein, and come with added benefits to our metabolic health and psychological well-being. Fiber nourishes the gut and potentiates a faster gut-brain connection, while protein helps keep the blood sugar stable to support healthy fuel to the brain. When choosing a high-quality nut, I would encourage you to choose raw or toasted nuts that aren't prepared in oil or flavored with salt, sugar, or other seasonings.
#4: Consume fresh, fermented foods.
Yogurts and other fermented foods are rich in key gut bacteria which nourish our natural gut microbiome. Did you know that your gut bacteria themselves can produce and modulate all of the neurotransmitters made in the brain, including serotonin? This forms the basis of what I affectionately term the 'gut-brain romance.' Show your gut bugs some love with unsweetened coconut milk or cashew milk yogurt in the morning for a dairy-free alternative.
#5: Get outside.
The research suggests that the further one lives from the equator (and thereby, constant sunshine), the more likely one may be to develop SAD. But getting more sunshine can help ease symptoms, while vitamin D also supports a healthy mood; in particular, taking time to be in nature is said to promote a sense of calmness and grounding (and not to mention, mood-boosting physical activity!).

6. Try turmeric (with a pinch of black pepper!).
Inflammation in the brain is a common underlying factor for most mood disorders and neurodegenerative diseases. Through the anti-inflammatory properties of curcumin, turmeric helps to relieve symptoms of anxiety and depression while relieving brain fog for increased focus and energy.
#7: Warm up with wintery spices.
It only takes a pinch: Adding spices like black pepper, cinnamon, saffron, rosemary, and ginger add color and flavor to our food, while each possesses brain-healthy and even mood-boosting properties. A tip: using a pinch of black pepper with turmeric significantly increases its availability in the body and brain.
#8: Nurture healthy relationships.
As the colder weather sets in, and the holidays heighten the busyness of our lives, it can be hard to stay connected with the people who fill our figurative cup. However, isolation can worsen symptoms of SAD, and devolve into a self-sustaining cycle of feeling isolated, being unable to reach out or make plans, and consequent feelings of loneliness. Scheduling phone calls, walks with friends, or dinner plans—however small or casual—can make a huge difference in improving mood and nourishing one's dearest friendships.
As my work in Nutritional Psychiatry has reflected, there are actions we can take, and foods to add to our plate, that can empower us towards better moods and happier holidays—during the gloomier weather and beyond.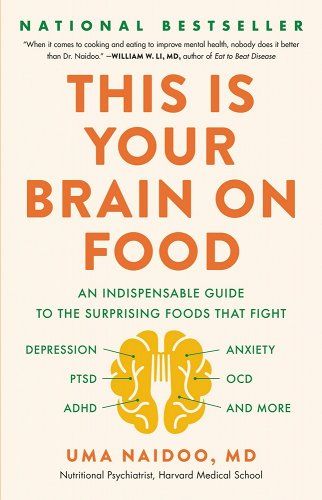 Dr. Uma Naidoo is an award-winning board-certified Psychiatrist at Harvard Medical School, professional chef, nutrition specialist. She is the author of the national bestseller, This is Your Brain on Food. Learn more at umanaidoomd.com, and connect with Dr. Uma on Instagram and Twitter .
---
Question from Dr. Uma Naidoo: I'd love to know which step resonated with you? Let me know in the comments below!