These Are the Questions We Always Wanted to Ask Our Dads—and How the Answers Impacted Us
To celebrate Mother's Day last month, The Sunday Paper team asked our moms questions we always wanted to pose but hadn't just yet. Their answers touched us—and you!—and filled us with even more gratitude for the incredible women in our lives.
So, we decided to do something similar this Father's Day with one twist. Our fathers and stepfathers wowed us so much with how they answered our questions, we felt compelled to write a little something back to them. We hope giving you a little insight into our relationships with our dads will inspire you to celebrate yours today.
A CONVERSATION WITH OUR DADS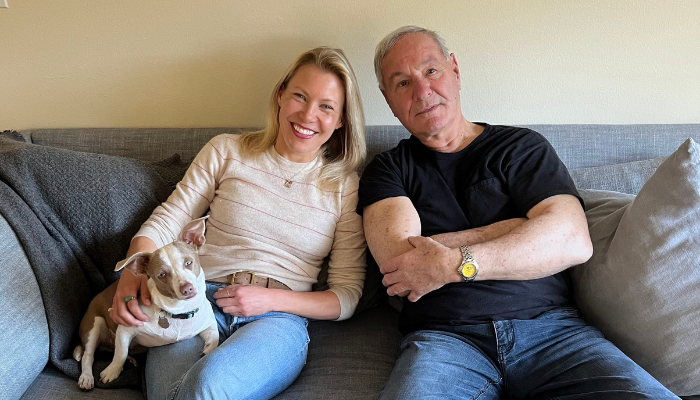 Senior Editor Stacey Lindsay and her Stepdad, Wayne
I call you my 'Bonus Dad' because you're just that: a bonus in my life. How does being a stepdad make you feel?
I love it. You're such a wonderful person, Stacey, and I'm glad to be part of your life. When you marry someone, they're not your blood but they become your family. So now you're part of my family through marriage, and it makes me so happy. I love you.
I talk about my father with you a lot. It's been over a decade since he passed, and I still ache over losing him. Do you ever feel a weight or responsibility to fill this hole in my life?
Yes, I do. Not only do I want to be there for you, I feel obligated to be there. You're part of my family, my whole circle. So yes, I do.
I think you and my father would have been friends.
Absolutely. I'm sure we would have.
What is one thing you've learned from being a stepfather?
It's hard to put into words. I've learned that it is possible to have, as you say, a 'bonus' daughter. It's something that really adds to your life. I think about what I can do for you. It's rewarding to help people and to do things for people. I enjoy doing things for someone much more than I do receiving. Except in the case of your mom. I now let myself receive love in my life because of her. You can't beat that or put a price on it.
You have three daughters and one bonus daughter. What do you hope for the four of us?
I hope that all your lives are fulfilled and that you do things you want to do. I also really hope you all get together someday. I hope you get to know each other. I would love for us all to rent a house on the beach in North Carolina one day so we can all learn about each other. I pray for that to happen one day. Wouldn't that be special?
Yes, it would.
Dear Wayne,
I first viewed you as a hurricane; a storm that I didn't want to weather. When you came into my life, I was still reeling from the pain of losing my father. I was also going through a hard period with my mother, and I was depressed. Because of this, I pushed you away when you and mom started dating. Any potential joy from forming a relationship with you seemed like an island I would never reach.
As time passed, I realized I was shutting myself off from one of the greatest humans ever. So I slowly opened up. I worked on my pain separately and realized that was my baggage to carry, no one else's. As you and I formed a bond, I became a stronger and better person. Your empathy and warmth are unlike anything I've experienced.
Wayne, you are a forever bonus in my life. And now, after asking you about stepfatherhood here, I fully see that I am a bonus in your life, too.
Love, Stacey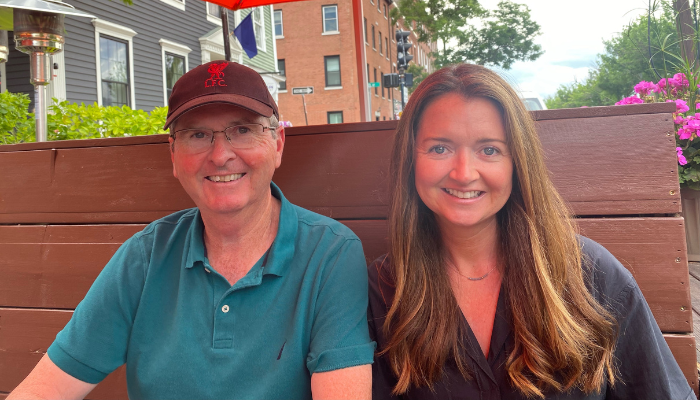 Senior Editor Meghan Rabbitt and her Dad, Tom
You played a big role in my competitive Irish step dancing hobby throughout my childhood, acting very much like my coach at all of the international championships I competed in over the years. Is there a moment that stands out to you from your #dancedad years?
I remember one competition like it was yesterday. You were only about 10 years old, and everything was going as planned when you were up on stage competing. Then, halfway through your routine, you forgot your steps and left the stage.
At that moment, I was transported back to my own childhood. When I was growing up in the 50s and 60s, Lawrence Welk was a god—and his harp of choice was the accordion. I am one of those faces in old photos showing 30 or more kids with accordions strapped to our chests playing popular songs and polkas. I wasn't too bad. One weekend, my parents entered me in a large competition. I was doing well until I forgot the music and finished the piece in unintended staccato. Unfortunately, I overheard the judge say to my mom, "It's a shame, if he hadn't forgotten the music, he would have won."
As research and many spiritual folks point out, our brains are hardwired for negativity bias. We tend to hold on to negative experiences like Velcro while our positive experiences slide away as if our brains were Teflon. Watching you leave the stage that day, understandably upset and wanting nothing more than getting in the car to go home, I decided on a father intervention.
I didn't want the day to turn into an "accordion" experience for you. So, I took a risk. I asked one of the judges if there was in effect a do-over in Irish dancing. He laughed and told me there wasn't. He did suggest, however, that you could enter the following competition that was about to begin. The only catch is that you'd be competing against dancers at a higher level. Reluctantly, you agreed.
As I watched you dance, I began to rehearse a trying-is-what's-important talk. Then, you surprised everyone and took third place in that competition.
It's fun for me to think back on that day. I knew you had a reservoir of strength to draw on, and I was counting on that strength. I'll admit that the dad in me also wanted to make sure you didn't have a Velcro moment—at least not that day.
I often wonder what would have happened if I just decided to give you a hug and get some ice cream. I understand that being a father sometimes means giving your daughter a hug and calling it a day, but sometimes it means having faith in her and acknowledging her strength. Either way, we were going to have the ice cream.
Dear Dad,
I only remember that day vaguely—it definitely wasn't a Velcro moment for me! But I do remember another competition more vividly. I was 15 or so and competing at a more advanced level, and another dancer on the stage knocked me down mid-dance. I had to make a split-second decision: I could run off the stage defeated, or I could get up and finish the dance. I was stunned and a little embarrassed, but something in me inspired me to pop up, find my place back into the beat of the music, and finish.
As you know, the poetic end to that story is that I took home the second-place trophy and my overly aggressive competitor—the usual first-place champion in our age group—came in last. I can still remember you beaming that day, so proud of how I'd navigated the situation.
And I know what helped give me the chutzpah to get up and try again that day and to this day when things don't initially go my way: You, Dad. Thank you.
Love, Meghan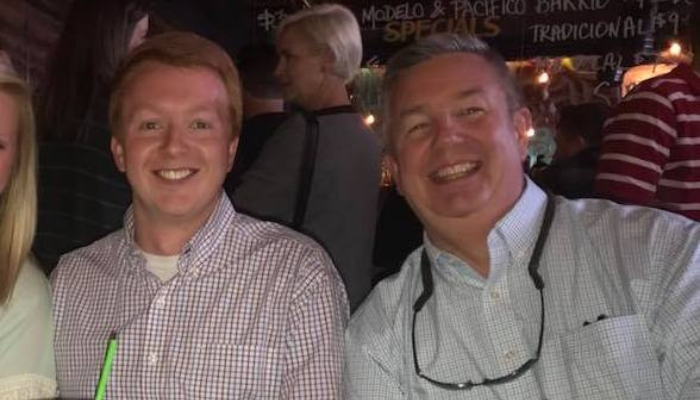 Coordinating Producer Bentley Maddox and his dad, Keith
Growing up, you never really showed a ton of emotion. But in recent years, I feel that's changed. What has prompted that change? And why so stoic in our younger years?
I think when you and your sisters were of a certain age, I needed to be more solid and in control. I certainly had my emotions that I probably hid, for the most part, to appear to be more stable and less emotionally fragile. But more recently, as I'm growing my understanding of mortality, I'm realizing that I don't have any control over the family—just more influence, maybe. Also, my emotions now are more based on the childhood you each had, the time we had as y'all grew up. Honestly, I don't know if it's nostalgia or the fact that as I get older, I realize my years are getting fewer, but maybe they've both had an effect on my response to things.
As I get older, I'm realizing it's probably okay to show more emotion. But I do think there is some expectation for the father to be strong and not show too much emotion—that's probably what I was doing. I didn't see a lot of emotion out of my father. That's the way it used to be; fathers didn't show a lot of emotion. Growing up, I could usually process and work through my feelings pretty quickly without having to display or expose them.
I still don't cry very often. Honestly, for the most part, I'm fairly happy. I only cry when I'm extremely sad. And I haven't been that sad. I'm a very happy person.
Dear Dad,
I asked you this question because of the stark contrast between how you and I show our emotions. As evidenced above, you didn't exactly wear your heart on your sleeve when I was growing up, and I certainly never saw you cry. I thought, Maybe Dad just never learned how to deal with his emotions. I'm super in tune with mine and cry regularly. Something must be wrong with him.
But what I'm realizing is your approach was much more intentional than I originally thought. Sure, you adopted your father's influence. But you were also very measured in how you wanted to appear. You wanted to be a solid foundation for your family. I should have given you more credit for that.
You've reminded me that you don't have to be a frequent crier to be an emotionally adept person. You say you're a happy person, and you know what? You are! You are kind and thoughtful and always want everyone to have a good time, yourself included. And not only do you know this about yourself, you relish it. Knowing and embracing this is a beautiful reminder that emotional intelligence can manifest in a multitude of ways. Happy Father's Day, Dad!
Love, Bentley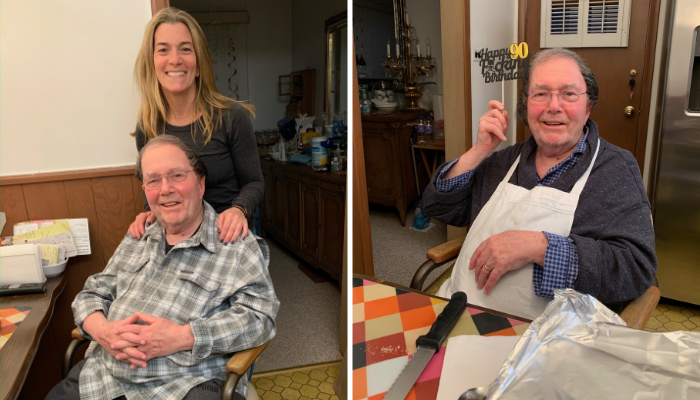 President of Shriver Media Jackie Levin and her dad, Leroy
You were 21 and mom was 18 when you got married. That's unheard of today. Why so young?
We got married quickly because I was being shipped overseas, and I didn't want to lose her. We were in love. We did alright. It will be 70 years on August 9th.
We got married while I was in the service during the Korean War. I had just finished infantry training at Fort Sill in Oklahoma, and I was going into artillery training next. I had a long weekend in between, and I went home to Chicago to get married. Mom and Grandma E. planned the wedding in three weeks. I brought mother back with me to live in Oklahoma for the rest of my training.
How long were you in the service?
I was in Fort Sill for 16 weeks. Mom was there for two months of that time. Then I was shipped off to Tokyo and from there, they sent us to Sendai, Japan where I was with the 24th infantry division in the finance department. Before that I was in the artillery line to serve in Korea, so it was the best day in my life when they sent me to work in the finance department. Boy oh boy, that was the luckiest break in my life up until that time. I had taken accounting classes in college and I could type. I must have been better at math than artillery!
The base in Sendai was beautiful, but I never left. I had everything I needed right there. From there, they sent me to Pusan, Korea (now called Busan). I became a Sergeant. When the war ended, they needed us to clean up a former prisoner of war camp, and it was just terrible. We went from the beautiful base in Japan to that. Then they moved us to Seoul before finally going home after two years away. I did not see mother for two full years.
How was it to see Mom after two years away?
It was 1954. It was strange coming home. I did have a funny feeling about it and getting used to civilian life again, but it only took about two days, as I had my lovely wife to come home to.
Do you have any regrets as a father? Is there anything you'd change if you could?
I wish I could have spent more time with my kids; I was always working. I would have enjoyed seeing more of your basketball games. Maybe you wouldn't have quit playing! I had no choice though. That's how I was brought up. Fathers went out and worked and mothers stayed home. Nowadays things are very different. I missed out on a lot of the kid functions, but I showed the three of you that I worked hard every day. Papa Jack was the same way, and that's where I got my work ethic from. I did get to see a lot of my grandsons' baseball games though, which I loved. I long for those days.
Dear Dad,
After 70 years of marriage, it's hard for me to imagine you and mom apart for two days let alone two years as newlyweds. You two are so in sync; I can't even picture one of you without picturing the other. Every time I call you and ask how you are doing, you always say without fail, "Hangin in there," and then you laugh because you know how it upsets me. I should be thrilled that at 91 years old, you're "hanging in there," but I get a pit in my stomach as I can't imagine my world apart from you either.
I know we've lived long distance for many more years than we lived together, but we've always had a special bond. We spar for fun (even though it upsets mother terribly). While I vigorously argue my point, raising my voice along the way, you somehow always manage to keep your cool, laughing along the way. You are the yin to my yang. So, while you may not have come to most of my games growing up, I always knew you were in my corner and continue to be to this very day.
Love, Jackie Jean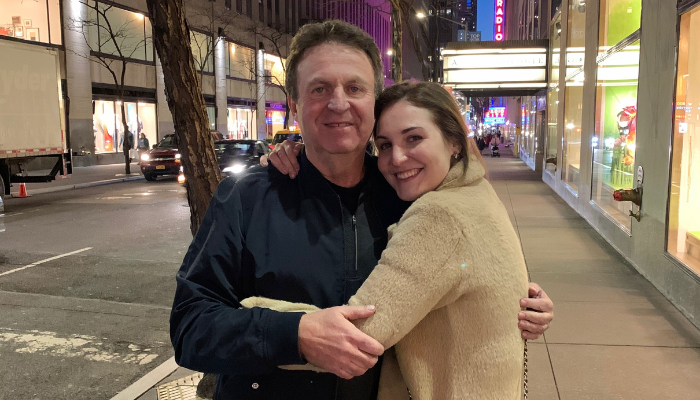 Chief Operating Officer of Shriver Media Cydney Weiner and her dad, Larry
Dad, you had a complex relationship with your father growing up and into adulthood. Were you afraid to become a father yourself? Did that change with each of your kids?
Yes, I did have a complicated relationship with my dad.  He had Bi-Polar Disorder, and struggled to provide for his family. However, he was always there for me with love, admiration, and advice—and I have always tried to model him in that way. I was not afraid to become a father (a husband, maybe).  But being a dad has always been a lot of fun for me.  I have loved seeing you and your brother and sister grow up.
You're also a grandpa now…How does it compare to parenting? Were you nervous at all to become a grandparent?
Why would I be nervous? It's pure joy. Being a grandfather is great as expected—I get to hold the baby and feel pure joy and like most grandparents when I want to leave, I just pass Charlotte back to her mom. However, the greatest joy I have is watching Charlotte grow into a person. First, she held her head up, and then she was able to grab her bottle and lately she has been army crawling. The unexpected joy I had is watching you become a mother and my son-in-law become a father. Just like watching Charlotte grow, I love watching you and Peter grow into a fully formed family. I love to watch all my babies grow up.
That's so sweet. What's the hardest thing about parenting? Do you have any advice for us?
Seeing my kids struggle and in pain is the hardest thing. I want to step in and stop it, but just stepping back and letting you learn sometimes is necessary for you all to grow.
My golden rule for parenting is this: provide a lot of love, and let the Seinfeld reruns play…
Even though we sometimes live in different cities, we talk a lot — like multiple times a day. What do you think that's about?
I love talking to you and your brother and sister a lot. Just like my dad, I find comfort in my kids. I feel a lot of love from each of you. It's a great feeling.
Dear Dad,
I'm glad to hear that being a dad has always been fun for you because being your daughter has been fun for me, too (though I know there have been times when us kids have stressed you out). You definitely always made us feel loved and admired and I always knew I could come to you with anything—and I still do. You've always had extreme empathy for each of us—even when we didn't really deserve it. You are the definition of a safe place for us to come with our feelings and so much more. Watching you become a grandpa has been a gift and I can't wait to see how your relationship with Charlotte grows.
Love, Your Firstborn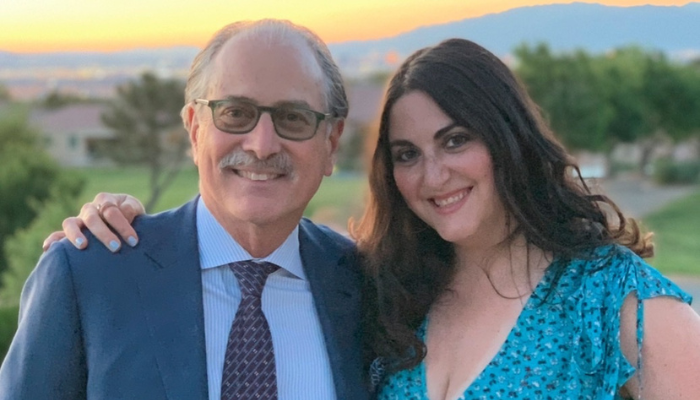 Social Media Director Mara Freedman and her dad, Marty
What takeaways from your childhood and your own father did you bring into parenting (good or bad)?
I never really knew my Dad. Although he was physically present throughout my life, we never developed an emotional bond. I knew that when I became a parent, I wanted to have an entirely different relationship with my children. I never missed a single school play or sporting event. I spent time talking to my children. You only have your children for a short time, before they are adults with lives of their own. I am glad I recognized this and how it hopefully made me a better parent.
One of the ways you connect with my siblings is through sports. As I am not a sports fan, how have you connected with me and formed our own relationship?
I don't think you realize some of my best memories with you are actually sports related. I have been to many baseball games and most blend in all together. One of my fondest memories is the Phillies firework game that ended up going into extra innings. I kept asking you, "Are you sure you don't want to leave?" But you hung in and we had a great time, even as the game ended at 1:30 am. I had to work the next morning and we couldn't even stay for the fireworks that started at 2:30 am. I will always remember that baseball game and how you were such a good sport. I remember going bowling with you and teaching you the etiquette of bowling. You really were listening to me and learned those lessons well. I was very happy when you told me you had incorporated those lessons when you bowled.
I asked mom about her recollections of my getting sick at 15, so I want to ask you as well, especially since a lot of my hospital visits were with you, you did a lot of my blood work (he's a doctor, fyi), and you experienced a lot of it with me. How did you deal with the emotional aspects of the experience and how did it change our relationship? Did my experience change the way you view life (and death)?
This was an extremely frightening time for all of us. I found it very difficult to watch you being treated for a life-threatening condition. In the very beginning, we were uncertain you would live. As a physician, I know things don't always work out the way you hope they will. I had to remain positive as well as give you strong emotional support. Your mom and I never left your side. We had a chance to bond, as I was the only one who could easily draw blood from you, (much to the dismay of the ICU nurses). Even after you were discharged from the hospital, I would frequently wake you up to draw your blood at home. The event really emphasized to me how precious my child is to me. Life can be taken away from you at any time. I learned that I always need to tell the people that I love, how much I love them all of the time. Thankfully, you are still here for me to tell you that I love you.
Dear Dad,
I remember the day well when you actually said to me that you were glad I was still here. I don't think I will ever forget that moment on the landing at Panther Road. I feel like I have many memories with you that are squirreled away, or in our own private language (which we also have) that no one else is really a part of. Maybe that's why they are some of my favorite moments. Like driving up the coast listening to John Mayer, taking me for beers in Puerto Rico, our Oscar competition (especially in Palm Springs back in the day), the stories you used to make up for me about your summers at camp, and so many more moments and memories that I feel like only exist between us. I can hear a song and think of you, and be transported to listening to it on the beach in Aruba, watching a sunset. I can see a firefly and immediately feel like I am back in the backyard, after a day of swimming, and picture you at the barbecue. And I can see a pen drop, and think of our joke, that isn't funny, that was never funny, but will still always make me laugh... and I hope makes you laugh too. Even though times have not always been easy, I love you so much. I carry so much of you with me. I always want to hear you say "I love you", to keep making more memories, to reminisce on our old ones, and to always end the day with a "Night, Mares." Happy Father's Day!
Love, Mud Pie